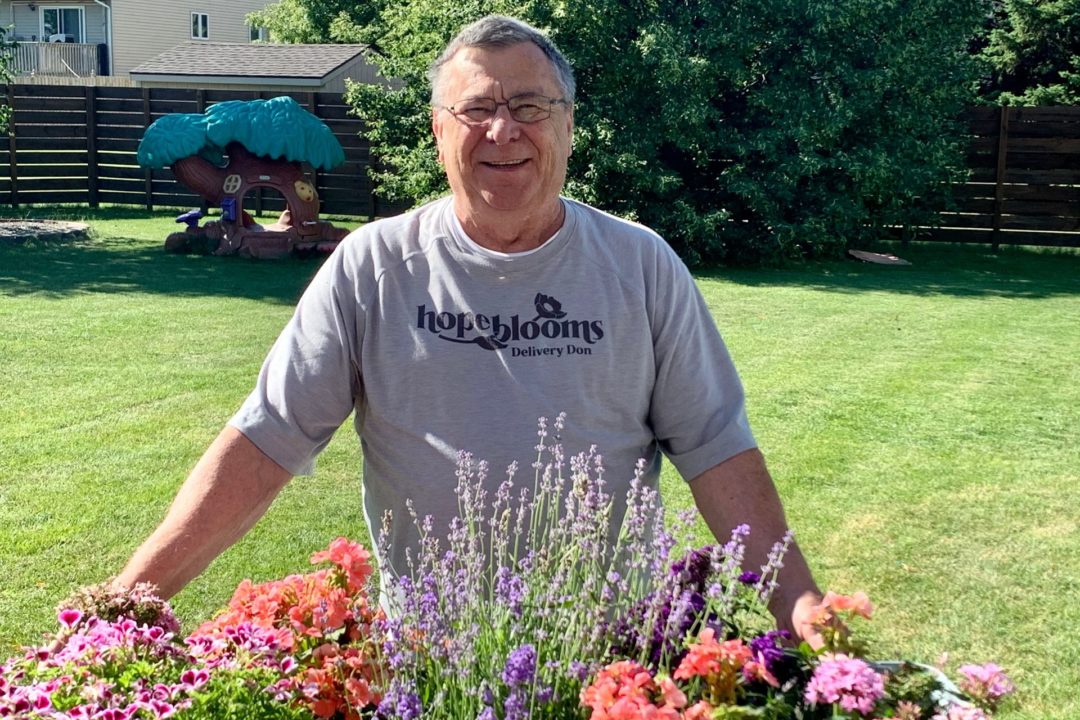 Volunteer Spotlight: Delivery Don
July 16, 2022 | Written by
We are so grateful to have a wonderful group of volunteers to help us tend to our community, and we're happy to introduce you to:
Don Krenzel, affectionally nicknamed Delivery Don, has shared his time with Hope Blooms since its founding in 2016. He's an anything-I-can-do-help kind of guy whose jovial personality is only eclipsed by his giving heart.
Don spends countless hours ensuring Hope Blooms has enough of a key resource for the delivery of its bouquets: produce box flats. While this may seem like a small task, it's a commitment that takes hours nearly every week of the year – transporting boxes, carefully cutting away the unnecessary cardboard for the perfect delivery vessel and delivering stacks of boxes to the Hope Blooms shop. Each week he repeats the task with love and care, so Hope Blooms can deliver joy and hope to our community members in need.
Don and his wife, Laurie, have collected nearly 800 boxes helping Hope Blooms deliver more than 50,000 bouquets since its inception. This unique volunteer role is critical to the mission of Hope Blooms and furthers recycling items that would otherwise be discarded, an important value of the organization.
Don also helps with many handyman projects around the shop – everything from building workbenches and shelving to hanging items and more. Volunteering for Hope Blooms is a labor of love and family affair for Don, whose son, Scott, is married to the founder of the organization.
"I knew I was going to get involved when my daughter-in-law, Kelly, started it," Don explained. "It's a great program. It's a very rewarding experience, and you can tell how much it affects people when you get to see the look on their faces as they receive bouquets. It puts a smile on their face and mine!"
Learn more about Don and his passion to serve Hope Blooms.
What do you do for Hope Blooms?
My main volunteering gig for Hope Blooms is delivering supplies and boxes. Bouquets are delivered in grape boxes. My wife works at Hornbacher's, and she works with the produce department to collect all the boxes Hope Blooms needs. She brings the boxes home, and we cut all of the tops off and prep them for use, and then we drop them off at the Hope Blooms shop. I wouldn't be able to do this without Laurie's help; we're a great team. I also help around the Hope Blooms shop: fixing, building, hanging things up, a little bit of everything.
Why is giving back in your community important to you?
I love living in this community – plain and simple. The community has given a lot to me and my wife, and I can't think of a better way to thank them but to give back through service.
What's your favorite way to spread joy?
I like to spread joy by being kind and treating treat people how I'd like to be treated.
Name one of your most joyful moments in your life.
People bring me joy. One of the most joyful moments in my life was when I married my wife. Also, when both of my boys, Scott and Jeff, were born and more recently when my grandkids came along. My grandkids – Henry (6), Finnegan (3) and Archer (1) – are the loves of my life.
What's something no one would ever guess about you?
I was commissioner for a baseball league.
What's your favorite quote?
"Treat people the way you want to be treated."
When you're not spreading joy with Hope Blooms, how do you spend your time?
I enjoy going to my grandson Henry's ball games. It brings me a lot of joy. I also still work a little bit and keep busy doing work around the house.
Is there anything else you'd like to share?
I am just so proud of Kelly for starting Hope Blooms. I've told a lot of people about the organization and my coworkers have even volunteered. They tell me how much joy volunteering at Hope Blooms brings them, and I agree. You don't realize until you've volunteered once or twice just how great this mission is and how good the work makes you feel. I'm so glad I get to see my grandkids volunteer and grow up with Hope Blooms in their lives.
Hope Blooms offers a variety of volunteer and team-building opportunities to individuals and groups alike. From cleaning jars to delivering blooms, there are opportunities for every skillset.
Stay up to date on our big annoucements, volunteer opportunities, future impact stories and so much more!