We offer a variety of volunteer opportunities to individuals and groups alike. From cleaning jars to delivering blooms, there are opportunities for every skillset.
Here are a few of the ways volunteers help us.

Help us wash, polish and prepare donated jars to be used for floral arrangements.

Lend a hand by picking up flowers from donors and delivering them to our facility.

Help us create handmade beautiful, one-of-a-kind bouquets. No floral experience needed!

Bring a smile to the friendly faces in our community by hand delivering bedside bouquets.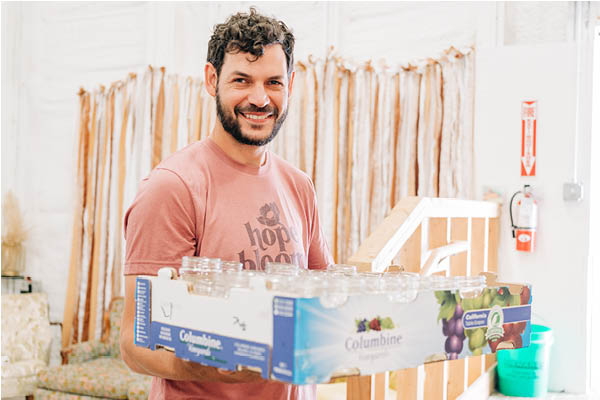 Even one set of hands goes a long way in helping us spread joy. If you're looking for a great solo volunteer opportunity, Hope Blooms offers an inviting and light-hearted approach to giving back.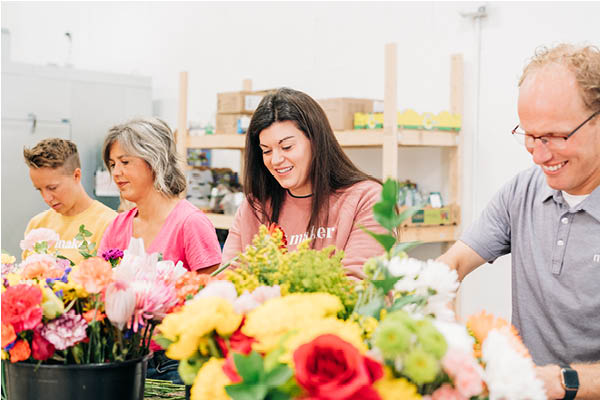 Looking for a way to give back with your friends and family? Hope Blooms has a variety of volunteer opportunities that can accommodate groups of five or more in a fun and relaxed setting.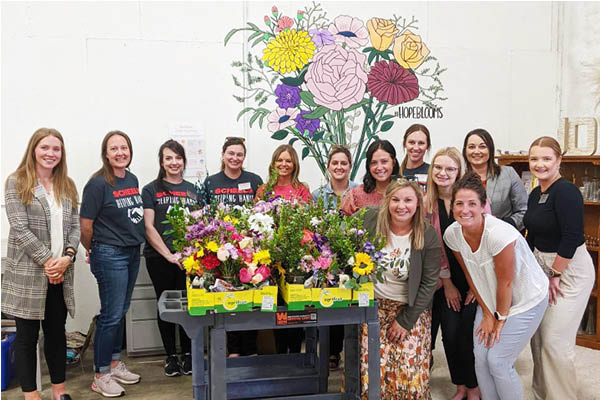 Looking for a great team-building activity with community impact? We offer unique, fun-filled opportunities for your employees to engage with one another while spreading joy to those in need.
Tips for volunteering with us!
Wear clothes you're comfortable working in — sometimes we get a little dirty assembling the beautiful bouquets!

We'll be on our feet while creating bouquets, so consider wearing comfortable, closed-toe footwear.

If you'd rather wear gloves while working with flowers, please bring along your favorite pair. (We'll provide the rest.)

Have fun! We want this to be a positive and meaningful experience for you, and we're so grateful you've considered sharing your time with us to spread more joy.