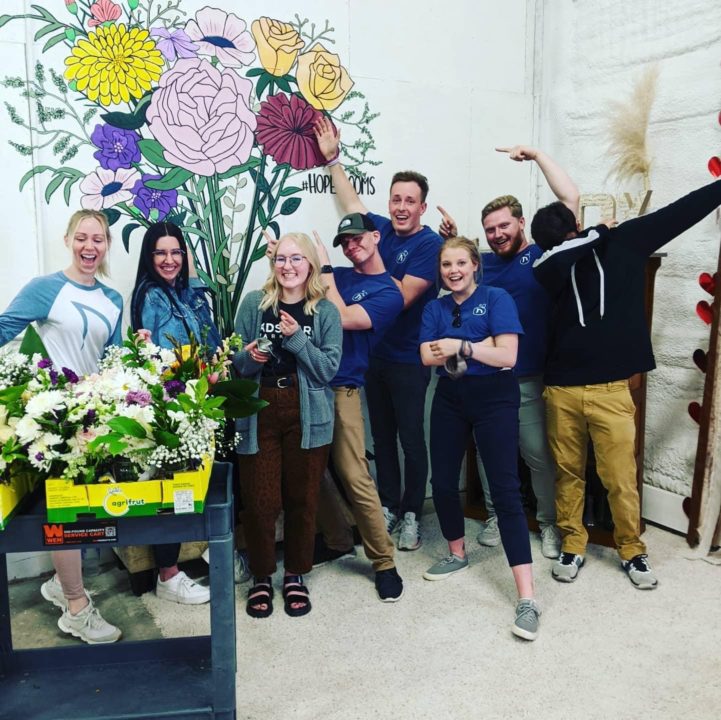 Making a Splash for Happiness: AdShark Donates Web Development to Hope Blooms
October 17, 2021 | Written by
We're taking a deep dive into one of the most generous and creative teams around – AdShark! AdShark is a digital marketing and web development agency based out of Fargo, ND. They are a fun-loving, hardworking group of creatives who are committed to client success, doing what's right and striving for excellence. Above all, they are making a positive impact on the world and the people around them – from their epic and punchy puns to their giant giving hearts, the AdShark team is splashing happiness into the lives of everyone they encounter.
Their core value of happiness directly aligns to the work of Hope Blooms, and AdShark recently donated their web services to create a new website for the organization. The new site is a masterpiece of creativity, branding finesse and responsive design.
We spoke with Jack Yakowicz, AdShark business development manager, about AdShark's commitment to Hope Blooms and why they are passionate about the organization's work.
How does Hope Blooms' mission align with AdShark's values?
Hope Blooms mission of inspiring hope, happiness and emotional healing through repurposed flowers is something that was very easy for our crew to get behind! Since our inception, "happiness" has been a core value of the AdShark team, and we define it as "making a positive impact on the world and the people around us." Being able to volunteer at Hope Blooms and see firsthand the happiness that was created from the bouquets that we made and delivered to a senior living community embodied this value to a tee. We are so proud to partner with Hope Blooms and find ways to keep living out our happiness value.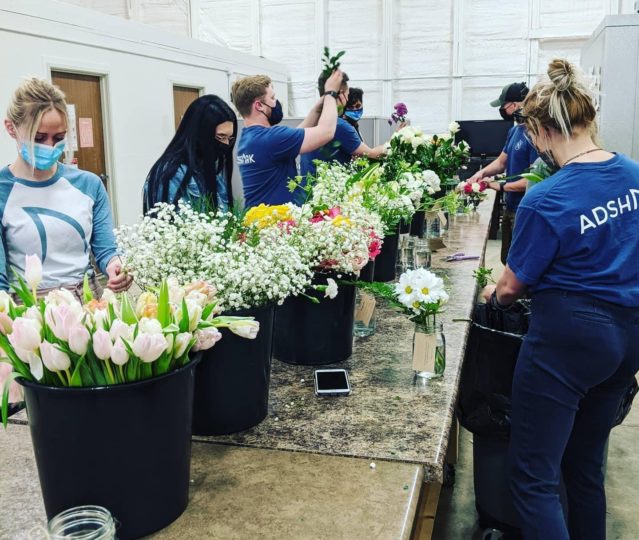 What, in the eyes of AdShark, is special about the Fargo-Moorhead-West Fargo and surrounding area?
At AdShark, the services we sell are related to digital marketing and web development. But in actuality, what we're providing businesses with is the expertise to help introduce their business to prospective customers. What continues to amaze us is how many incredible companies exist within a 10-mile radius of our community. Across a multitude of industries, small- and medium-sized businesses in Fargo-Moorhead are making an impact on a national level, and it's incredible to have some hand in their success as we help develop their digital strategies.
Furthermore, we think that a lot of companies like ours have a natural inclination to give back through donations, volunteering and more. This is a community that raises each other up and we couldn't be happier to operate our business in the Red River Valley.
From your interactions or experience with Hope Blooms, what do you see as its impact on the community?
Hope Blooms embodies the notion that little acts of kindness can make a big difference. Through something as simple as delivering flowers to those in need, the organization is able to put smiles on the faces of a diverse group of people across our community. The staff and volunteers that make up Hope Blooms are truly spreaders of joy and positivity in the FM area, and that's something we all need (now more than ever).
As a personal aside, I've been connected to Hope Blooms for a few years now, but may not have truly grasped the value they bring to our community until I was sitting with my grandmother in the memory care unit and a Hope Blooms delivery came for her. It made her so incredibly happy to receive a gift at such a vulnerable time, and it made me tear up thinking about how proud I am to know Kelly and the Hope Blooms team. Awesome moment.
From a community partner perspective, why do you believe in supporting causes like Hope Blooms?
We feel the nonprofits that make up our community are a crucial part of what makes Fargo so special. Organizations like Hope Blooms help contribute to the city's vibrancy and take care of needs that would otherwise not be met without their support. Fargo has been a wonderful place for us to run our business, so naturally it makes sense to give back to the community within our means. By volunteering with and donating to the causes in our community, we know that we're contributing to the greater good and helping organizations keep doing the amazing things they do day-in and day-out.
Lastly, what's your favorite way to spread joy?
I, too, am a firm believer in the "little acts of kindness" approach. I like to spread joy to strangers by doing things like paying for the meal of the person behind me at Chipotle or complimenting people and engaging them in conversation. Pretty soon, they don't feel like strangers and (I hope) Fargo feels even more inclusive and friendly.
Thank you to our dear friends at AdShark for such a beautiful and well-functioning site! Take a tour of our new website and see their work in action.
Stay up to date on our big annoucements, volunteer opportunities, future impact stories and so much more!