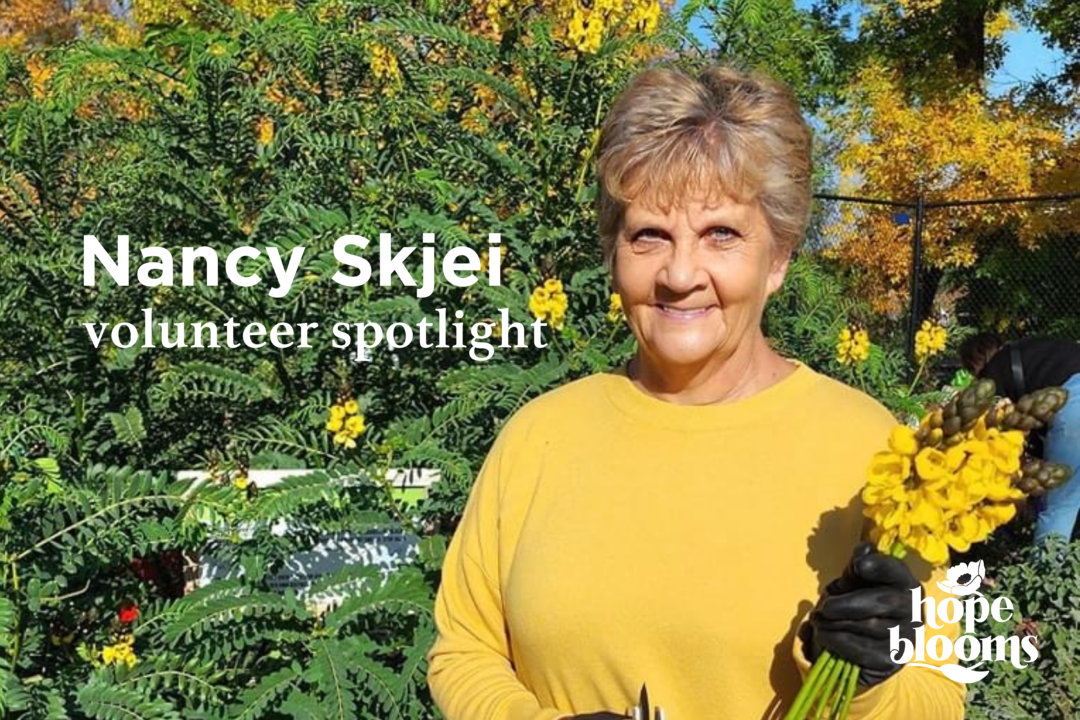 Volunteer Spotlight: Nancy Skjei
March 4, 2023 | Written by
Meet Nancy Skjei, Hope Blooms regular volunteer. When she is not spending time enjoying retirement in Arizona, Nancy volunteers with us several days a week and fills many roles at Hope Blooms. She was formerly a FedEx delivery driver which helped her transition into being one of our pickup/drop-off drivers and assists with processing flowers. Nancy takes dedication to a new level and makes Hope Blooms a more welcoming and bright community.
Learn more about Nancy and her dedication to giving back.
How did you first hear about Hope Blooms?
I heard about Hope Blooms and their mission from my neighbor.
Why do you choose to volunteer with Hope Blooms?
I love flowers and spreading kindness and smiles is the best! The staff and volunteers at Hope Blooms are so fun and friendly.
Why is giving back in your community important to you?
Everyone needs a little kindness and cheer now and then, so if I can put a smile on someone's face, that just makes my day. To me flowers are just a great way to show people "We Care."
In what ways do you see Hope Blooms bringing value to our community?
When you see the smiles on people's faces who are in nursing homes, women shelters, or homeless shelters, it is just the best feeling. Flowers have a way of bringing sunshine to many peoples lives. Sometimes a little act of kindness is exactly what that individual may need.
What's your favorite way to spread joy and kindness?
I try to say, "hi," and have a friendly smile any time I meet a new person.
Name one of the most joyful moments in your life.

The most joyful moments in my life were the birth of my two daughters and two grandsons.
What's your favorite flower and why?
I love many types of flowers but I would say it's the Gerber Daisy. They are an assortment of bright and cheery colors.
When you're not spreading joy with Hope Blooms, how do you spend your time?
I love to garden, tend to flowers, and of course shop. Getting together with friends for lunch is always a highlight of my day too!
Share a little about yourself and your family.
I moved to Fargo from Dickinson about 40 years ago. I married a UPS driver, Dave, and I worked for FedEx for almost 37 years. As the joke goes, we were both FedUp and retired! 😂 We have 2 daughters- Katie (Trevor) and Jenny- and 2 darling grandsons- Parks(4) and Rowan(2).
What's something that people would be surprised to find out about you?
I delivered packages for Fedex for almost 37 years. I retired June 2021 and Hope Blooms is the best delivery volunteer job ever!
"Since I was so busy with Fedex, everyone asked if I was bored since I retired. I would say I'm more relaxed and maybe a little lazy, but my days helping at Hope Blooms are wonderful. I, like many people, had never heard of Hope Blooms. I'm so lucky to have found this volunteer job working with many great volunteers and staff and I still get to deliver to people who appreciate Hope Blooms."🥰
~ Nancy
Stay up to date on our big annoucements, volunteer opportunities, future impact stories and so much more!