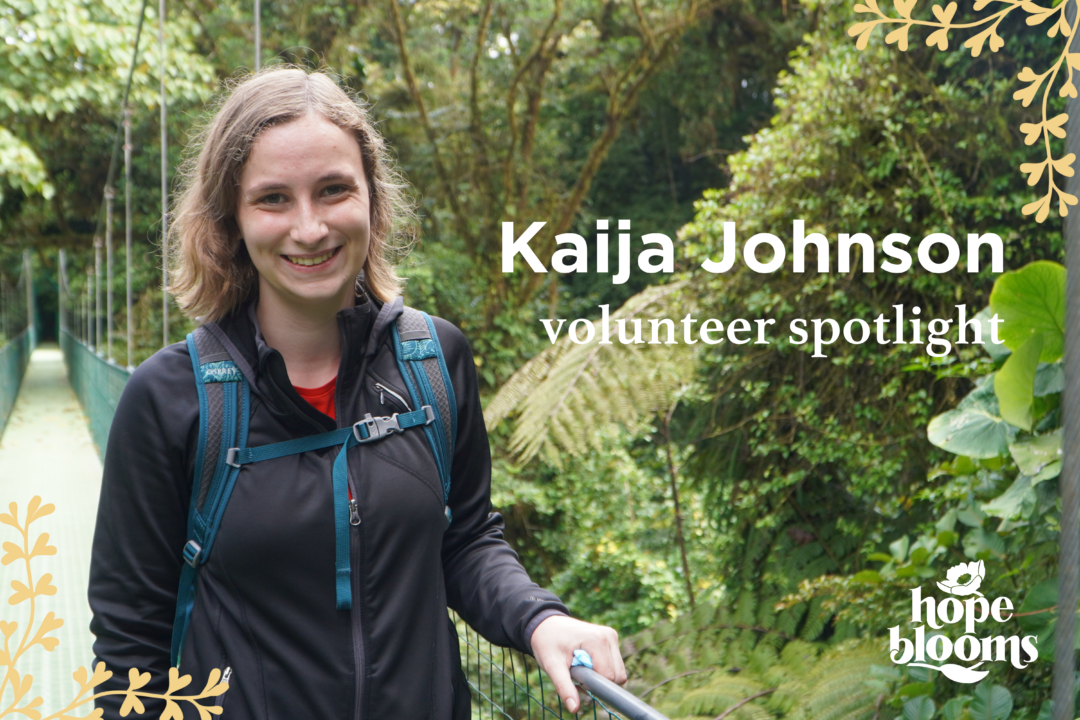 Volunteer Spotlight: Kaija Johnson
December 10, 2022 | Written by
Hardworking and dedicated to bettering the community around her, Kaija Johnson has been a diligent volunteer and event lead for over 2.5 years. Kaija is known at Hope Blooms for her unceasing work ethic, her passion to spread kindness to those in need, and her thorough quizzing of volunteers on Hope Blooms trivia as they arrange.
Kaija is selfless with her time and talents and we are so grateful for the commitment she has dedicated to forwarding our mission. She brings a light-hearted sense of humor, clear direction and initiative, and a tender kindness to all of those who have had the pleasure of working with her.
Learn more about Kaija and her passion to spread kindness with those around her.
How did you first hear about Hope Blooms?
As a college freshman, I participated in a Hope Blooms group volunteer event with a Concordia club. I absolutely loved it, and I immediately started volunteering on my own.
Why do you choose to volunteer with Hope Blooms?
There is just something about flowers that fills me, and I love sharing that passion with others. Walking into Hope Blooms to the fragrant scent of lilies or the bright colors of carnations makes any day better, and I get to share that with others when I lead events and when I deliver bouquets. One of my favorite deliveries was to a woman at a nursing home. She had a pink quilt on her bed, so I picked a bouquet of soft pink roses for her. She burst into tears when I handed it to her. She could not fathom that such a beautiful bouquet was for her. I volunteer with Hope Blooms to help create these moments in people's lives and spread joy through flowers. They heal the soul.
Why is giving back in your community important to you?
Giving back is cyclical, so I volunteer to create a vibrant community to live in and to support the people around me.
In what ways do you see Hope Blooms bringing value to our community?
Hope Blooms inspires creativity and personal connections in both the shop and in the community. In the shop, I taught a group of elementary school girls how to make bouquets for the first time. Their faces lit up as they tried different combinations of flowers until they were just right, and then they proudly presented their work. Making bouquets brought them joy. It was easy to see the impact of flowers on the children, but flowers impact adults, too. I think we've all had tough days where we feel like we can do nothing right, but when you come to Hope Blooms, you know there is beauty in whatever you create. Someone will love your bouquet no matter what. Hope Blooms impacts volunteers by giving them the creative break and supportive community they need to maintain balance in their busy lives. There's always a friendly new face to meet in the shop. In the community, Hope Blooms creates meaningful connections. I've truly seen people receive the message "you matter" when they get a bouquet. The bouquet is more than flowers. For example, I delivered flowers on Petal it Forward Day (2020) on my college campus. I later received this message from a recipient, "Wednesday was my birthday and our daughter had been trying to order flowers and have them delivered to me. Because of Covid she wasn't able to find any floral business that was willing to deliver flowers. She felt bad and so did I until you and Rita showed up [with Hope Blooms flowers]. THANK YOU!!! You two are so kind to have thought of me." Hope Blooms spreads joy in all aspects of their work.
What's your favorite way to spread joy and kindness?
I spread joy through small acts of service. I try to notice what brings joy to each specific person/situation and tailor my acts to them. Sometimes it's baking chocolate chip bars for my mom after a long day of parent-teacher conferences, sometimes it's offering to walk my neighbor's dogs when it is icy out, and sometimes it's writing letters to my friends during busy exam weeks.
Name one of the most joyful moments in your life.
Meeting my childhood dog, Calvin, for the first-time. He brought me so many years of joy. Being greeted at the door with his butt wiggle always brought a smile to my face.
What's your favorite flower and why?
I love dahlias. They are so unique in their sizes, shapes, and colors, but they are all stunning. I think an individual dahlia bloom makes a statement.
When you're not spreading joy with Hope Blooms, how do you spend your time?
I always make time for my family and friends. Together, we cook, hike, craft, and watch movies. I am also a pre-medicine student at Concordia College (biology and Spanish major, chemistry minor), so I spend a lot of time studying.
Share a little about yourself and your family.
My mom, dad, and brother Alex live in Bloomington, MN. We are a tight-knit family, and I always look forward to visiting them. We are garage-salers, lefse-makers, musicians, and basketball players. Home smells like mom's fresh-baked apple crisp.
What's something that people would be surprised to find out about you?
I'm artistic. I draw, oil paint, knit, henna hands, graphic design posters, decorate cakes, and play trumpet.
Is there anything else you'd like to share?
I love working with new volunteers! The events are fun, and I'll help you along the way. We'd love to have you join us at a volunteer event. As said by Elizabeth Andrew, "Volunteers do not necessarily have the time; they just have the heart." Hope Blooms is full of people with heart.
Stay up to date on our big annoucements, volunteer opportunities, future impact stories and so much more!