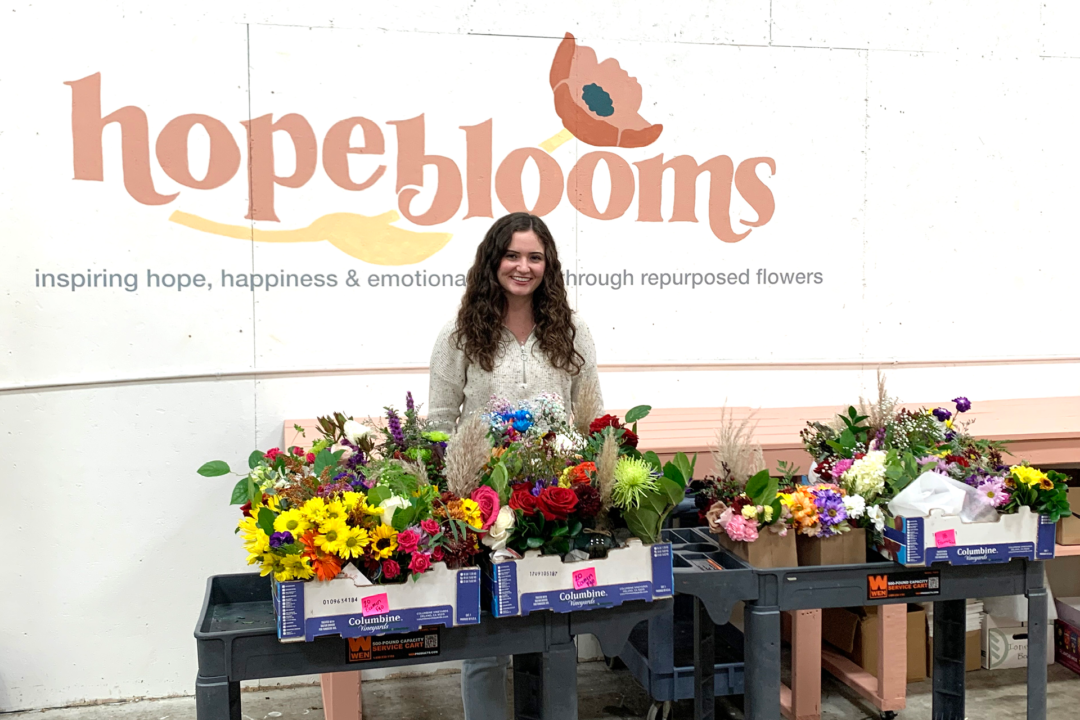 Intern Spotlight: Ellia Dalzell
November 16, 2021 | Written by
We're so happy to introduce you to our fall intern: Ellia Dalzell
Interning with Hope Blooms since: September 2021
How did you first hear about Hope Blooms?
I first heard about Hope Blooms through a volunteer opportunity with Concordia College's Women in Business club. As a member of Women in Business I was able to volunteer with Hope Blooms and learn about their mission!
Why do you choose to volunteer with Hope Blooms?
I decided to work with Hope Blooms because of their unique mission and the population they served. Individuals in need of joy benefit from the bouquets that are being delivered, and the many volunteers who work with this organization are able share the same joy.
Why is giving back in your community important to you?
Giving back to my community is extremely important to me. A supportive community is something that helped me to become the person I am today. By giving back, I can create a positive, safe, and supportive community for someone else who might not have one.
In what ways do you see Hope Blooms bringing value to our community?
The biggest value Hope Blooms brings to our community is an environment where both volunteers and recipients of our bouquets can benefit from our mission. Hope Blooms provides purposeful work, meaning, and joy to many lives.
What's your favorite way to spread joy?
My favorite way to spread joy is through small acts. Whether it be bringing a treat to a friend, giving a stranger a compliment, or having a phone call with a family member, I like to do something positive for someone else every day!
How does the mission of Hope Blooms align with your own personal values?
I believe that beauty and joy can be found in any situation, and sometimes all that is needed to spark joy in difficult times is something as beautiful as flowers that are given a renewed life. Hope Blooms is able to inspire healing in a way that connects those who receive the bouquets and those who create them.
Name one of the most joyful moments in your life.
One of the most joyful moments in my life was when my family and I took my 12-year-old dog to the Atlantic Ocean! Watching my dog enjoy one of the most beautiful creations on the Earth made me purely happy.
What's a hidden talent or something no one would ever guess about you?
Growing up I was a competitive dancer! I practiced many forms of dance, from ballet to tap or hip hop to lyrical. In total, I dance for 14 years, 9 of which I danced competitively. I still dance today, and I have even been part of a dance film festival!
What's your favorite flower and why?
My favorite flower is a Zinnia! Every year my family would plant them in our garden, saving the seeds from the previous year to use in the spring. It became a family tradition of ours, and I love using them for bouquets in my house!
When you're not spreading joy with Hope Blooms, how do you spend your time?
I am a student at Concordia College, majoring in Business Healthcare Leadership and Healthcare Financial Management. On campus, I am part of Homecoming Committee, Women in Business, Student Healthcare Management Association, and several mentorship programs. In my free time I like to go for walks or bike rides, cook, craft, and hang out with friends and family.
Share a little about your family.
I grew up in Horace, ND, with my mom, dad, older sister, and dogs! I was a graduate of Sheyenne High School and then went on to Concordia College. When I can, like to visit relatives within the FM area, and as a family we spend time in Minneapolis visiting my sister, going to the lake, or traveling!
If you're in the shop, we encourage you to welcome Ellia!
Stay up to date on our big annoucements, volunteer opportunities, future impact stories and so much more!