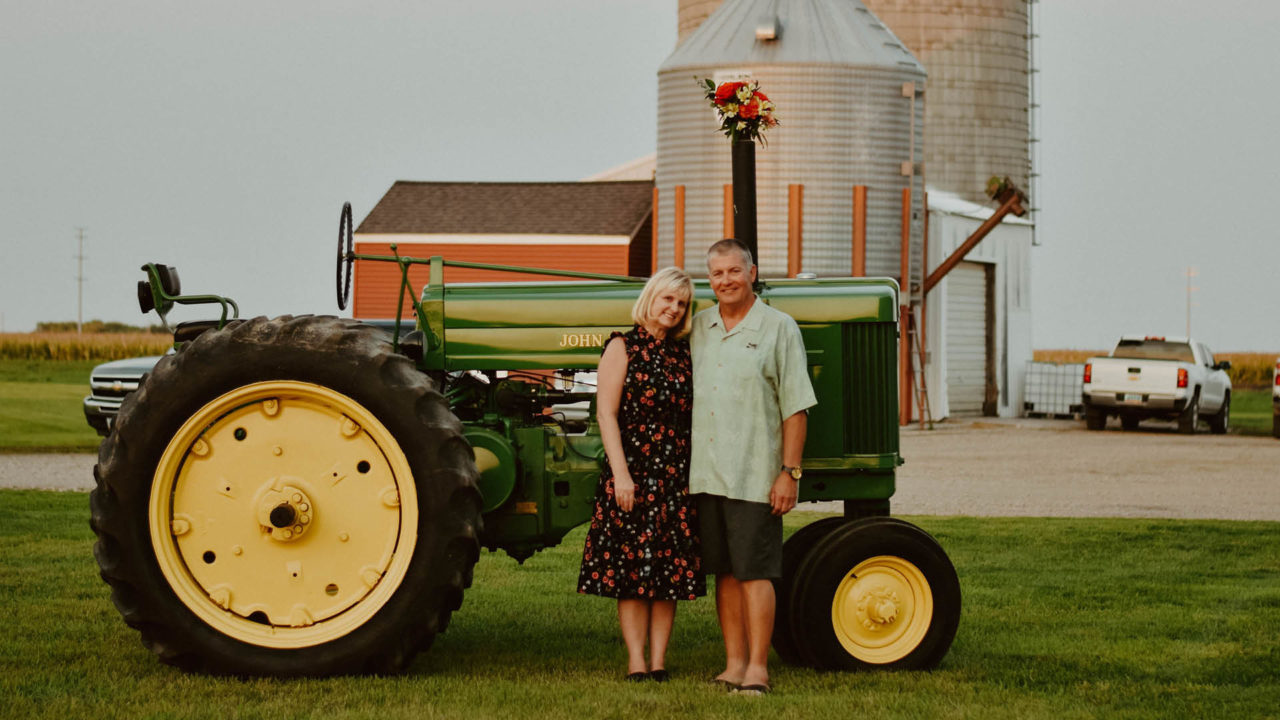 Harvesting Kindness: Miller Family Gives Back to Hope Blooms
August 29, 2022 | Written by
Sharon and Steve Miller are charity champions with hearts as vast and wide as the fields they tend on their rural North Dakota farm. The couple finds meaning and purpose in giving back in all aspects of their lives, especially through supporting local nonprofits.
They became involved in Hope Blooms a number of years ago when Sharon served on the Hope Blooms board of directors. This service blossomed into a family affair when Steve and their daughter Molly started supporting the organization, as well. Molly regularly shares her time as a weekly floral pick-up volunteer, and she also helps assemble bedside bouquets.
The family's adoration for the mission grew into the Millers opening up their home and hosting a fundraiser called Harvest in Bloom to raise essential funds for Hope Blooms. 
"We use our home to spread joy for Hope Blooms. We welcome people to our farm for a beautiful evening of celebrating the accomplishments and community of Hope Blooms," Sharon said. "This event is very personal because it's an opportunity for Steve and me to share a piece ourselves with others. We love Hope Blooms, and we want to create a time and place for people to share their means, hearts and resources with the organization." 
Learn more about Sharon and her family, and why they support Hope Blooms.
Why do you support Hope Blooms?
In the simplest terms, it comes down to two fundamental reasons: the people and the mission.
I will support Kelly Krenzel in every venture she takes on. Before she started Hope Blooms used to work with Kelly, and she is an incredible human being. 
The mission is multifaceted, but I value recycling and repurposing everything. Hope Blooms utilizes gently used resources and gives them new life in a meaningful and impactful way. What a beautiful idea!
Additionally, I saw the direct value of the organization's work when my father-in-law was in Hospice. Flowers are a vessel that carry a message of love and belonging to everyone they're sent to. It's more than just the flowers. 
My daughter Molly also experienced the power of a Hope Blooms delivery firsthand when she brought bouquets to her NDSU dorm and a girl from her floor came and knocked on her door to thank her saying, "Molly, I needed this." 
These bouquets somehow find the perfect people to reach – someone who may be feeling down, lonely or going through a really difficult time. I continue to support Hope Blooms to make sure those in need are shown the kindness and support they need and deserve.
What's your favorite flower and why?
Red rose. It's a classic beauty. Red roses were in both of my weddings. It's the flower of love, and that's what they make me feel. 
Why is giving back in your community important to you?
I give back because I've been so blessed. I am fortunate that I have the means, time and energy to give back, so I do just that. 
My passion for investing in the community fills my cup, and it's something I've passed it along to my children and hope to continue to my grandchildren. 
I've mixed giving back into my career to ensure that I always have time for it – both personally and professionally. I served on boards for Hope Blooms, CCRI and Ronald McDonald House.
What's your favorite way to spread joy?
Steve and I share this: we are givers. If someone calls me, I'm there. This applies to every 5K run, pasta feed, gala, food drive or lemonade stand. I'm here for it all.
Name one of the most joyful moments in your life.
My family is always my source of happiness. Marrying Steve was one of the most joyful moments of my life; my whole life clicked into place. My career, family and aspirations fit together when I added this man into my life. He embraces my passions and is right by my side in everything I do. 
My three kids and four grandkids are also a major source of joy in my life. 
What is something no one would ever guess about you?
I moved to the FM area to marry Steve, but I'm really a city girl. I grew up as a military brat and was born abroad, so I'm really a world traveler. My world, experiences and map of relationships are bigger and broader than most people would assume. I'm very much a relationship builder, so I've built a network with people I've met all around the world. I really care about investing in and keeping relationships going. 
When you're not spreading joy with Hope Blooms, how do you spend your time?
Well, I'm semi-retired. I still work part-time as an human resources consultant, which fills a bit of my time. I love spending time with my grandchildren, and I am the HomeGoods queen! I have an eye for interior design, and I love making my home a welcoming extension of myself.
How did the Harvest in Bloom fundraiser start?
My journey with Hope Blooms started in spring 2019 when I was welcomed on as a board member after a call from the board president at the time, Danielle Teigen. During one of my first meetings on the board, we brainstormed fundraising ideas, and I proposed hosting some kind of small event at my farm.
During the next 6-8 weeks, I quickly pulled together what would become the first of many Harvest in Bloom events. The first year we had catered food, a raffle and my good friend Ryan Fritz from Office Sign Company donated art to raise funds. The success of our first event in 2019 has evolved the event into an evening of amazing food, live music, a silent auction, sponsorships and an art raffle with all proceeds benefitting the mission of Hope Blooms.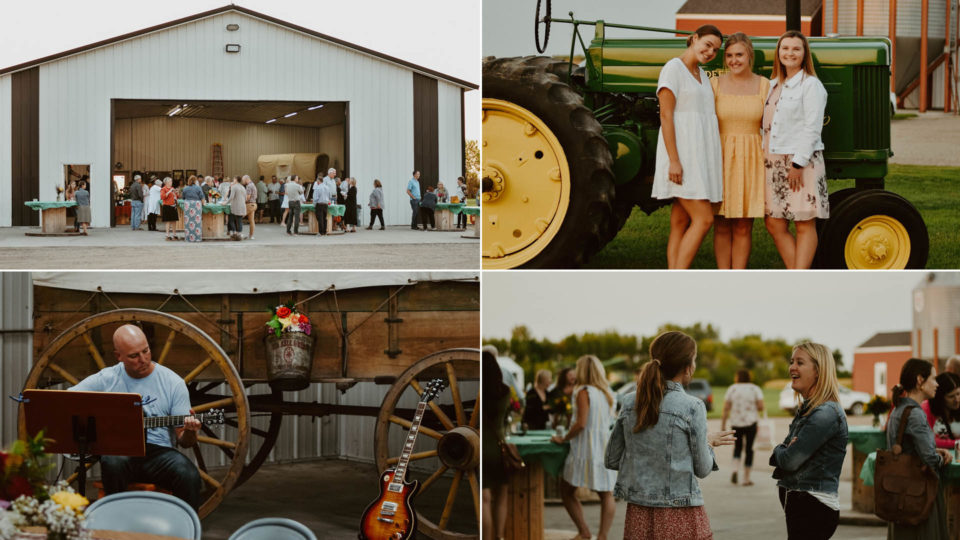 Harvest in Bloom is held every year during the first week of September around the harvest season. We host this intimate event of around 100 guests in the working shop of our farm, surrounded by fields of corn, wheat and soybeans, and the backdrop of a gorgeous North Dakota sunset. This event brings a special meaning, life and purpose to our shop and the mission of Hope Blooms. We are so grateful to be able to share it. 
"The incredible generosity of the Miller family is a true testament to their character and giving hearts," Kelly Krenzel, Hope Blooms founder, said. "Harvest in Bloom raises significant funds and awareness that are absolutely essential to continuing our mission. We're so grateful for all of their support and countless kindnesses that directly impact our beloved community members in need."
HARVEST IN BLOOM: LEARN MORE & GET TICKETS
Stay up to date on our big annoucements, volunteer opportunities, future impact stories and so much more!