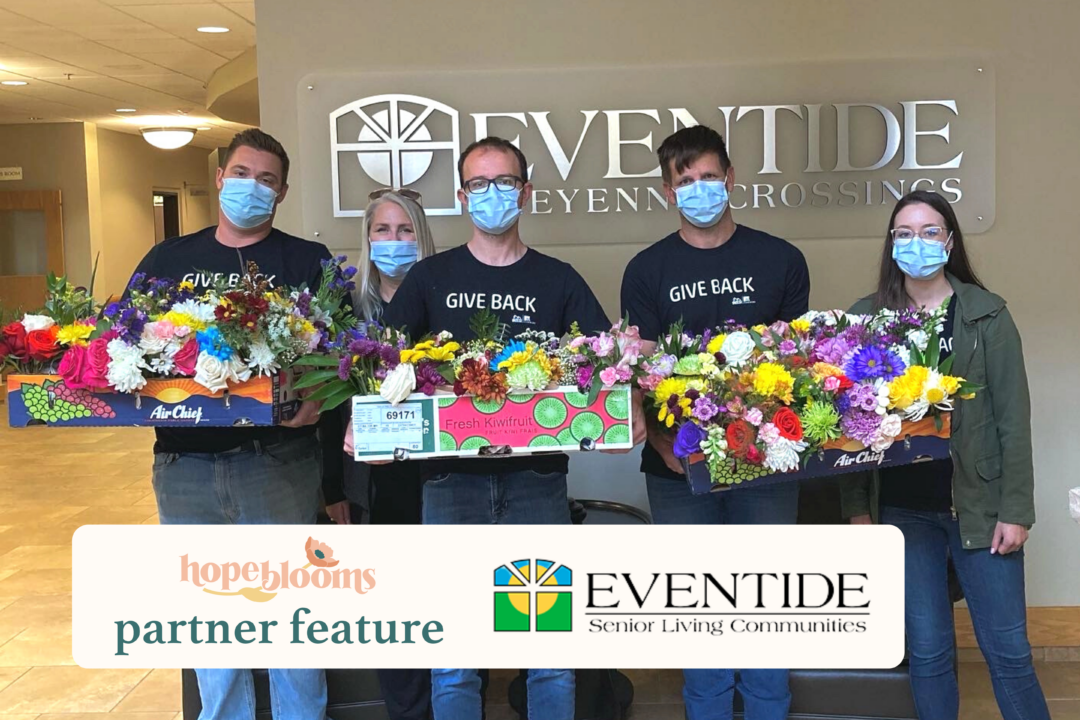 September 18, 2022 | Written by
Hope Blooms serves multiple Eventide facilities and we have partnered to deliver joy to their residents since 2016. This feature was completed by Carrie Carney who is the VP of Marketing and Communications at Eventide. Working with their facilities has been a joy and we are grateful for the support and services they provide to our community.
How does Hope Blooms' mission align with Eventide's values?
 Eventide's mission is to empower older adults to thrive, and one of the many ways to thrive is to experience joy. Hope Blooms' mission of spreading joy does just that – flowers bring joy to our residents!
What, in the eyes of Eventide, is special about the Fargo-Moorhead-West Fargo and surrounding area? 
Just as Eventide's mission is to empower older adults to thrive, FMWF is a place for everyone in the community to thrive. Eventide started in 1951 with its first care center in Moorhead. As FMWF has evolved, Eventide has had the privilege of serving not only the older adults of Moorhead, but the organization has evolved as well to serve seniors of Fargo, West Fargo (and beyond in Jamestown and Devils Lake) providing more services to a greater number of seniors. Eventide now offers independent apartment living, assisted living, memory care, transitional/rehabilitation care and skilled nursing care. We also provide home care and hospice through our partner Ethos.
From your interactions or experience with Hope Blooms, what do you see as its impact on the community?
 Hope Blooms had an idea of making people happy through the simple act of gifting flowers and took it to another level in our community. The organization is well known for bringing joy not only to the recipients of the flowers, but also to those who volunteer to make it all possible.  
From a community partner perspective, why do you believe in supporting causes like Hope Blooms?
 Hope Blooms delivers happiness to seniors throughout our community. As an senior living organization, we care about the well-being of all older adults and our greater communities as a whole. Hope Blooms impact on the FMWF community is incredible and we feel it is important to support that impact so it can continue.
Lastly, what's your favorite way to spread joy? 
Spreading joy is something that happens at our communities each day, from our robust life enrichment programs, to each individual front line worker that has chosen long term care because it is a calling, bringing joy and happiness is essential.
Stay up to date on our big annoucements, volunteer opportunities, future impact stories and so much more!