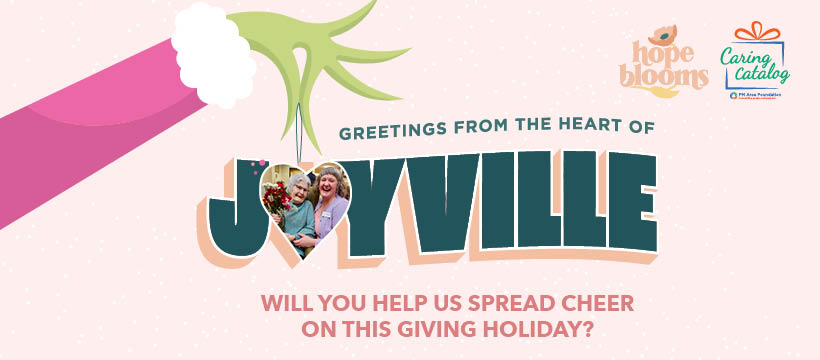 FM Area Foundation's Caring Catalog 2023
Friday, December 08, 2023 | 12:00 am - 12:00 am
Hope Blooms is participating in the FM Area Foundation's Caring Catalog, Nov. 27-Dec 8. We'd adore your support this holiday season! All donations made to charities through the Caring Catalog go directly to the charities of your choice with the Foundation covering all fees.
Greetings from the heart of Joyville!
An invitation to spread cheer all year:
We've worked hard to make a difference in life,
In a world filled with challenges and strife.
Our mission, you see, is to spread joy & cheer,
But we can't do it alone; we need you here!
We are fostering belonging with bedside bouquets
And the message of You Matter – today, tomorrow & always.
Spreading hope & joy through repurposed flowers,
Acts of kindness are our superpowers.
Because we've learned that joy doesn't come from a store,
Joy, perhaps, means a little bit more…
It's sending love to those who need it,
And the smiles that show us we succeeded.
It's filling our community with surprises,
And watching their hearts grow three sizes.
It's so much more than a simple bouquet.
Will you help us spread cheer on this giving holiday?
Warmest wishes,
Hope Blooms
The Caring Catalog is an online, giving platform that supports local nonprofit organizations and initiatives this holiday season. All donations are tax-deductible, and 100% of your gift supports the participating nonprofits. All participating nonprofits are located in either Cass County, N.D., or Clay County, Minn.