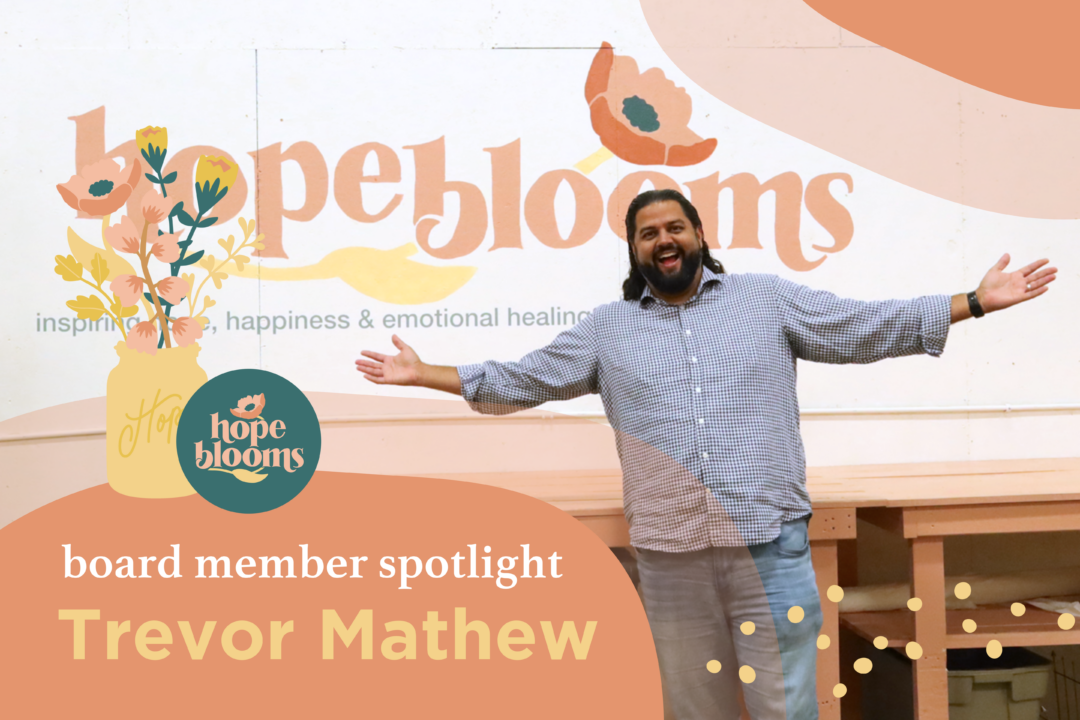 Board Member Spotlight: Trevor Mathew
January 28, 2023 | Written by
Meet Trevor Mathew, Hope Blooms board member. He has served on the board for a year. Trevor brings positivity and joy to the board and also lends his background in finance to support the mission.
Learn more about Trevor and why he's passionate about Hope Blooms.
How did you first hear about Hope Blooms?
I was on the planning committee for a fantastic event called Go Hawaiian for Hospice for many years. This is where I met the charismatic Kelly Krenzel, founder of Hope Blooms. Getting to know Kelly, it was no surprise that she would start such a joyous organization as Hope Blooms. 
Why do you choose to volunteer with Hope Blooms?
I created a personal mission statement that helps guide where I dedicate my time and energy. My mission is to share joy, inspiration and knowledge with everyone. Hope Blooms' mission is to inspire hope, happiness and emotional healing through repurposed flowers. It is a perfect union of purpose. 
Why is giving back in your community important to you?
My parents and grandparents have been terrific role models of inspiration and generosity. For example, we have traveled to India to visit family several times. The first few times we went, we stayed at my grandparent's house. Whenever we would go, I would notice random people coming to the house. I didn't speak Malayalam (the language spoken in Kerala, India), so I was never really sure what was going on. Eventually, I found out that these people were coming to ask for food. Each time, my grandmother would bring them out something to eat. I know that she made a difference to those people, and she made a massive impact on my viewpoint of giving back to the community.
 In what ways do you see Hope Blooms bringing value to our community?
Small acts of kindness can make a big difference. Positivity and negativity are both incredibly contagious. Hope Blooms can be that spark of positivity that spreads throughout the community.  
What's your favorite way to spread joy and kindness?
Sometimes it's as simple as just being kind and respectful and looking for those little moments to brighten someone's day.
Name one of the most joyful moments in your life.
The most joyful moment in my life was the birth of my twin daughters. Now they fill my life with joy every single day.
What's your favorite flower and why?
That's a tough one. Almost all flowers are inherently beautiful. Snapdragons are fun to play with, and lilacs smell delightful. I am not a gardener, though. I leave the horticulture to my father, who is an excellent gardener.
When you're not spreading joy with Hope Blooms, how do you spend your time?
I love helping guide people towards achieving their goals as a Senior Financial Guide at Alerus. I am also the Chair of the FMWF Chamber's Professionals of Color, a highly competitive fantasy football player and an avid comic book collector.
Share a little about your family.
I have adorable twin two-year-old girls who are my world. My wife, Emily, is the Kitchen Manager at CJ's Kitchen.
Stay up to date on our big annoucements, volunteer opportunities, future impact stories and so much more!