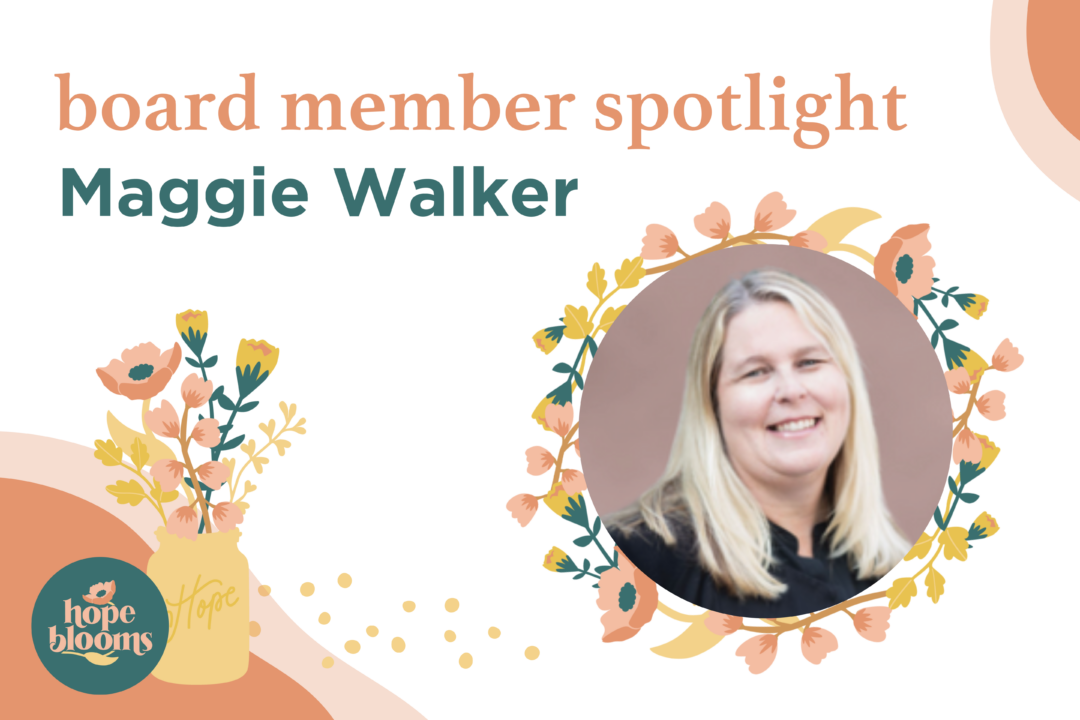 Board Member Spotlight: Maggie Walker
January 14, 2023 | Written by
Meet Maggie Walker, Hope Blooms board member. Maggie has served on the board for one year. She brings strategic vision and a growth mindset to the board — helping Hope Blooms plan for the future. Maggie has also served as a mentor for the founder of Hope Blooms.
Learn more about Maggie and why she's passionate about the mission of Hope Blooms.
How did you first hear about Hope Blooms?
I heard about Hope Blooms through the United Way's 35 under 35 women's leadership program.
Why do you choose to volunteer with Hope Blooms?
I believe in their mission, and I have seen first hand the impact it can make. My team and I were touched by Hope Blooms when we had our friend, employee and coworker, Jamie Grant, die tragically. With the help of Hope Blooms, we repurposed the flowers from his funeral into bouquets and brought them to a nursing home.  This made an impact on our healing process and to see the joy these bouquets brought to the residents. Jamie would be so happy to see this carrying on his legacy of the joy he brought to all those around him.
Why is giving back in your community important to you?
I feel giving back is a crucial element for our communities to thrive.  I received a hand-up from nonprofits during my childhood and in college. I was a first-generation college student, and the education support/tutoring of the TRIO program helped me to make it through college and graduate and now work at Microsoft. I saw firsthand the impact of giving and how it could make a difference in my own life.    
What's your favorite way to spread joy and kindness?
I try to do little random acts of kindness in a silent way each and every day.  E.g. buy someone a coffee, help a fellow parent out, say or do something to be kind to a stranger.
What's your favorite flower and why?
Orange Calla Lily. I like how ornate and hearty they are as I do not have a green thumb and they come up every year. We had them at our wedding. 
Share a little about yourself/your family.
I'm a mom and a wife. I have two children: Madilyn (18) and McKenna (14). I have a wonderful husband Rick Walker. We reside in Hawley, Minn., and we are avid sports fans.
What do we absolutely need to know about you?
My superpower is to inspire and motivate others.  I love sports ,and I was a soccer player at NDSU back in the day and possibly a bit of a competitive person.
Stay up to date on our big annoucements, volunteer opportunities, future impact stories and so much more!