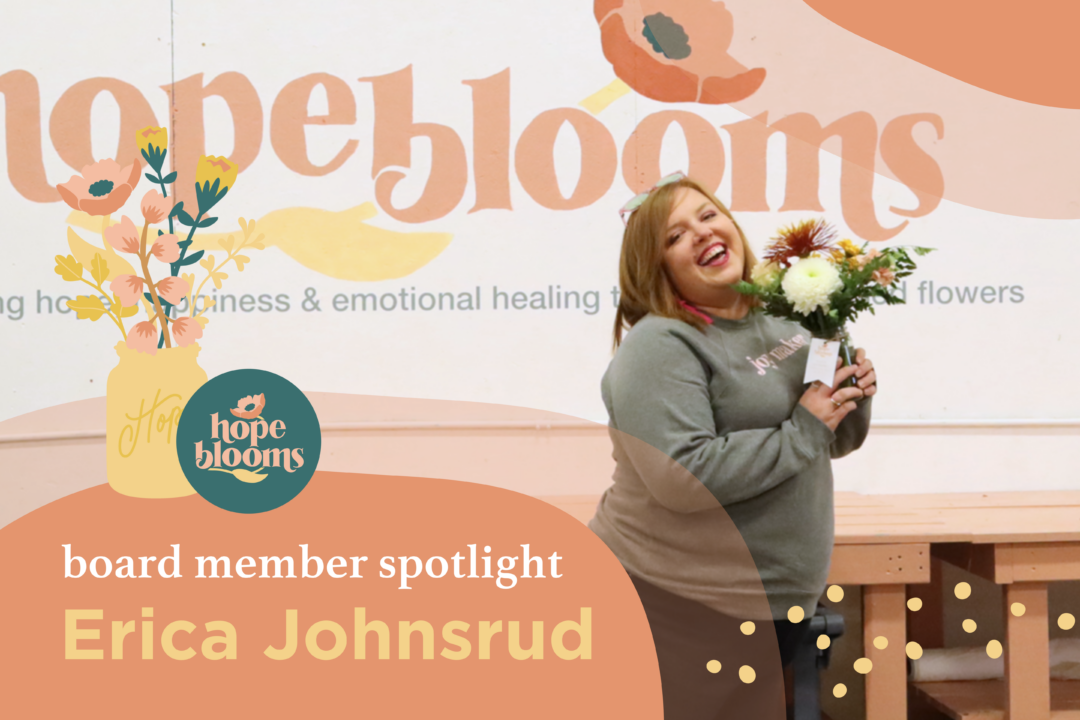 Board Member Spotlight: Erica Johnsrud
December 17, 2022 | Written by
Meet Erica Johnsrud, Hope Blooms board member. Erica has served on the board for two years, and she will serve as our board president in 2023. She brings a wealth of nonprofit knowledge and experience to the board through her previous work. Erica is a beacon of joy and positivity, and she is an incredible advocate for Hope Blooms! She will even dress head to toe in a flower suit with little to no notice!
Learn more about Erica and why she's passionate about the mission of Hope Blooms.
How did you first hear about Hope Blooms?
When working at the Ronald McDonald House Charities, Hope Blooms delivered bouquets to the families there and it was such a gift! It has been such a pleasure to be a small part of helping this wonderful organization to grow!
Why do you choose to volunteer with Hope Blooms?
Little things make such a big difference! Sharing flowers with those that may need a little pick-me-up and spreading joy to everyone makes my heart happy! I get more back out of volunteering than I give, and it fills my bucket to hear the stories of how big a difference it makes for people to hear the message "You Matter."
Why is giving back in your community important to you?
Giving back is essential to create a community that is a great place to live, work and play. The work that the nonprofit community does is essential, and it wouldn't be possible without a community that rallies behind to make sure that the resources are available for all. Giving back isn't just a good idea, it is vital to the prosperity of our community. Not only that, giving back is good for the soul and is proven to have health benefits!
In what ways do you see Hope Blooms bringing value to our community?
If you've ever received a random act of kindness you know the impact it has on your day, month, even year. Imagine a community where each person knew that they matter and they could have a little pep in their step, even if they are in a challenging time. The mission says it all: small acts of kindness change lives. Simply knowing that you are valued and cared for – especially during challenging times – can be a great source of hope and comfort.
What's your favorite way to spread joy and kindness?
It's the little things! Seeing something that reminds you of someone and sending it their way, writing a handwritten note of thanks or appreciation, giving a compliment to a stranger. Bringing others joy is what brings me joy!
Name one of the most joyful moments in your life.
I'm so fortunate to have an amazing group of friends who bring me the most joy! Some of my most joyful moments are traveling with my friends, creating and diving in to themed events, and laughing. On a particular vacation a few years back, we brought themed apparel to wear at the resort and it still brings me joy to think about!
What's your favorite flower and why?
Alstromeria or Ranunculus! They are both so bright, joyful, colorful and long lasting!
When you're not spreading joy with Hope Blooms, how do you spend your time?
I work for Dale Carnegie Training expanding our brand, creating joy for our clients and transforming our workforce. When I'm not at work I enjoy experiencing all that Fargo-Moorhead area has to offer. I love to meet new people, go new places and try new things. I'm a big fan of taking adventures, being outside and a good craft beer!
Share a little about your family.
I'm grateful to have a family that is super supportive of all I do! My mom and dad are also big cheerleaders for Hope Blooms. I live in Fargo with my best friend, Max, and our dog, Kevin!
Stay up to date on our big annoucements, volunteer opportunities, future impact stories and so much more!