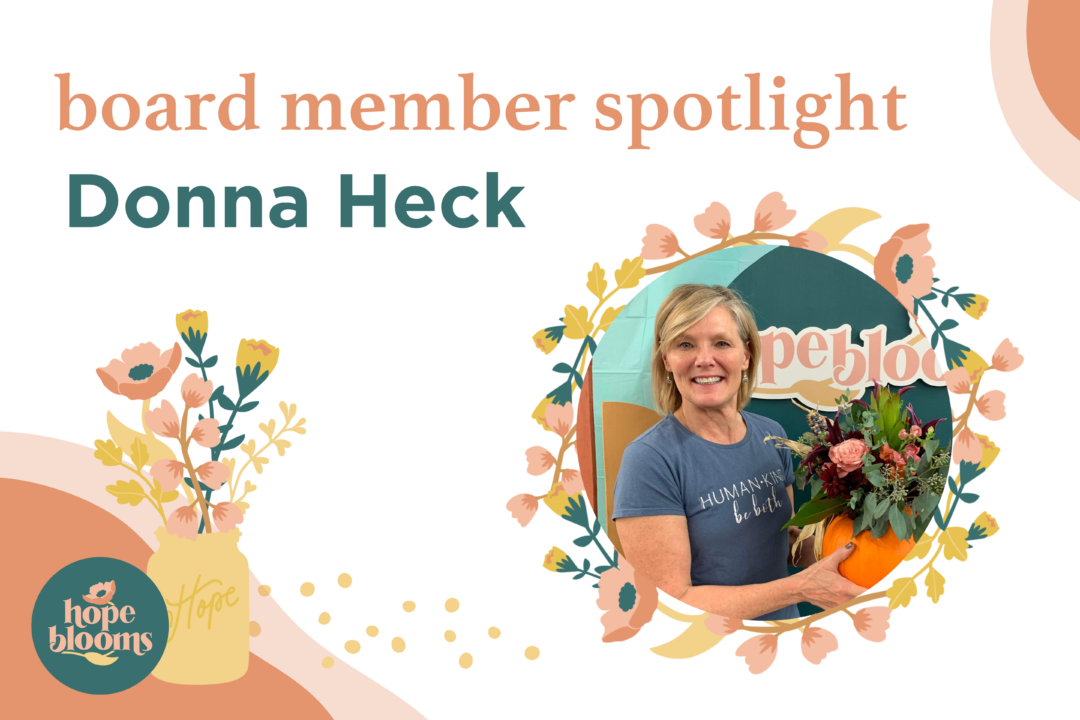 Board Member Spotlight: Donna Heck
February 11, 2023 | Written by
Meet Donna Heck, Hope Blooms board member. She has served on the board for a year. She brings a unique background in spreading joy through her previous work at Hallmark for decades.
Learn more about Donna and why she's passionate about the mission of Hope Blooms.
How did you first hear about Hope Blooms?
I received more specific information from Erica Johnsrud, who invited me for a beverage (or two) to entertain the idea of joining the board. I had heard of it through Robyn Gatz, a former Hope Blooms employee, a couple of years ago but didn't know much about it.
Why do you choose to volunteer with Hope Blooms?
Hope Blooms concept isn't complicated (I don't mean the work that goes on behind the scenes). It's local. It's a simple activity anyone can participate in from, and not limited to, age 9 to 90. It's a happy cause and repurposes flowers that still have life to brighten someone's day.  
Why is giving back in your community important to you?
Give-backs are key to a warm, caring, thoughtful, compassionate community that creates connections to be a place where people thrive and desire to be engaged.
In what ways do you see Hope Blooms bringing value to our community?
I love the saying "Be the someone that makes someone else's day better." Hope Blooms is an organization that can do just that with such a simple gesture.
What's your favorite way to spread joy and kindness?
Smile and genuinely compliment someone on a choice they made that stands out to you. Ask others about themselves.  Often you'll find or create a connection of commonality. I've enjoyed spending time with my mom the past several years since she made changes in her lifestyle when moving to Fargo and stepping out of or into her new comfort zone. When I can travel along her senior journey and support her in this phase thrills her and makes us both feel good.
Name one of the most joyful moments in your life.
It's so hard to pick one when I enjoy many moments! Hiking to the top of a peak is invigorating and challenging to get there and worth the breathtaking views on the way and from the top-of-the-world perspective, such as Sacagawea Peak in Bozeman, Mont., St. Helens, Wash., Zion and Bryce Canyon National Parks and the Grand Tetons. 
What's your favorite flower and why?
I love the bold showiness of hydrangeas. They're so eye-catching and often make me stop in my tracks to admire them.  I also like poppies and anemones because they're dainty and carefree as they gently wave and bobble in the wind.  
When you're not spreading joy with Hope Blooms, how do you spend your time?
I love traveling and exploring new adventures in the outdoors, any city, airport, park or event. I like to find the fun and funny in everyday moments. One of my mottos is "Bad experiences make great stories"! I enjoy being active, hiking, biking, walking and horseback riding — staying physically active and healthy. Friend time is good for belly laughs, the mind and soul. I enjoy quiet puzzling on cold winter nights with music and a glass of wine or sitting in the screened porch on a hot summer sultry eve. I'm a DIYer and appreciate learning "how-tos."
Share a little about your family.
I grew up on a small farm south of Kulm, N.D., with my parents and one brother. My husband, Darren Dunlop, who I enjoy going home to every day, is from a smaller town, Forest River, N.D. We have a fun sense of humor between us and enjoy our friends, attending sports or other events, concerts and seeing the world together.  
Stay up to date on our big annoucements, volunteer opportunities, future impact stories and so much more!