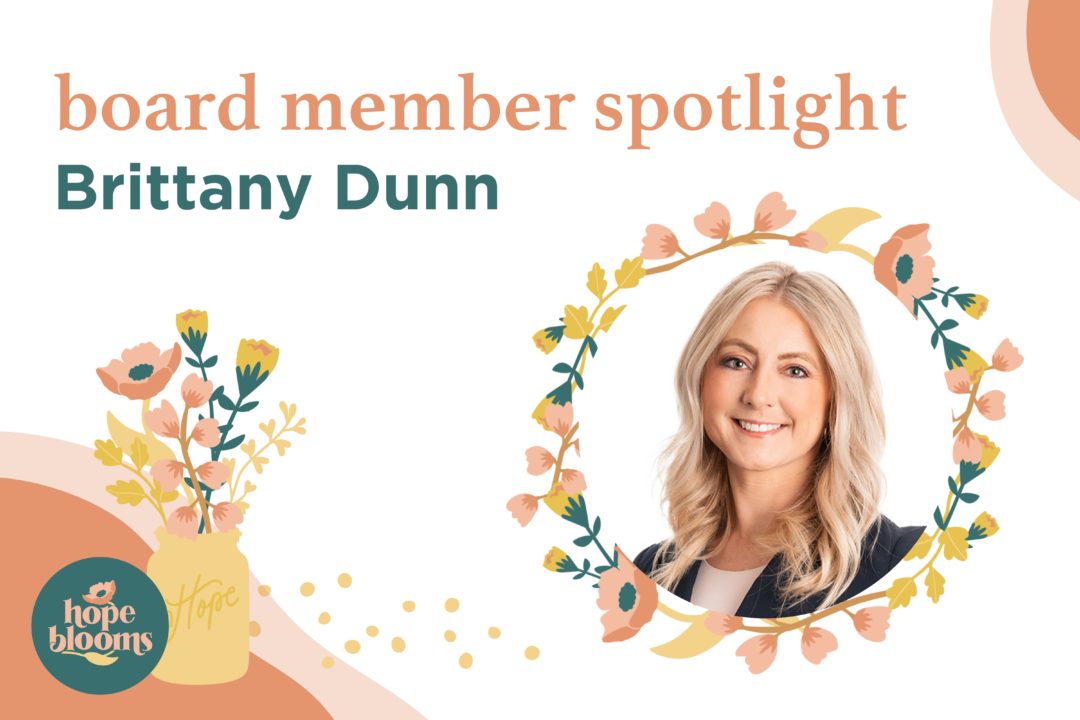 Board Member Spotlight: Brittany Dunn
February 18, 2023 | Written by
Meet Brittany Dunn, Hope Blooms board member. Brittany brings an abundance of financial knowledge to the board through her background as a CPA and partner at Eide Bailly. She has served as our board treasurer for the past two years providing essential guidance and assistance with budgeting, financial reporting and record keeping, and all things finance.
She's not just our treasurer, but rather, she's a true treasure to us at Hope Blooms! We're grateful for all the care and time she dedicates to serving our mission.
Learn more about why Brittany is passion about Hope Blooms.
How did you first hear about Hope Blooms?
I was exposed to Hope Blooms on social media through a friend's involvement with the organization. I love flowers and thought the mission of repurposing flowers was such a simple and original idea that could easily put smiles on the faces of so many people in our community.
Why do you choose to volunteer with Hope Blooms?
I really appreciate that we are impacting lives that may be missed by traditional nonprofit causes. Many of the community members we serve have been forgotten and need to be reminded that they do "matter." I also find a lot of value in the opportunity we are providing people to donate flowers to be repurposed.
For example, I think we are providing an invaluable service to grieving families to share the love they have for their loved ones who have passed on by gifting us their memorial flowers and allowing that love to continue to positively impact lives.
Why is giving back in your community important to you?
I grew up in a small, tight-knit community. I experienced first-hand how important it is to feel like you are "part of something" at a very young age. These types of communities don't happen by accident, it is the results of people giving back and making the community a priority.
In what ways do you see Hope Blooms bringing value to our community?
Through my experiences growing up in a small community, I also interacted with many people who may be "forgotten," such as elderly people. These elderly people were integral in forming the great community I grew up.
Giving back to that part of our community with Hope Blooms is very important to me because I have experienced the rewards of their contributions many years ago, and I want them to continue to remember that we appreciate their contributions, and they still matter.
What's your favorite way to spread joy and kindness?
My favorite way to spread kindness and joy is to do so through the giving of time and conversation. One of my favorite things to do is to spend an hour talking with my 92-year-old grandmother about her life or inviting her to share stories about her life experiences while looking through old photo albums.
Name one of the most joyful moments in your life.
I find the most joy in the moments with my kids when we are celebrating traditions — whether it be during the holidays or annual family trips to Medora. There is something so great about seeing joy on the faces of your children enjoying the same experiences that brought you joy so many years ago.
What is your favorite flower and why?
I love peonies. I think I love them so much because they have such a short life span, and when you catch a peony bush in perfect bloom, it's almost like finding a hidden treasure.
Share a little about yourself/your family.
I live in West Fargo with my two children: Rocco and Raleigh. I am a CPA by day (and sometimes night), but I also love music, reading and shopping in my free time. In the summers, I love planting and caring for flowers and plants, and sharing that with my kids.
Stay up to date on our big annoucements, volunteer opportunities, future impact stories and so much more!