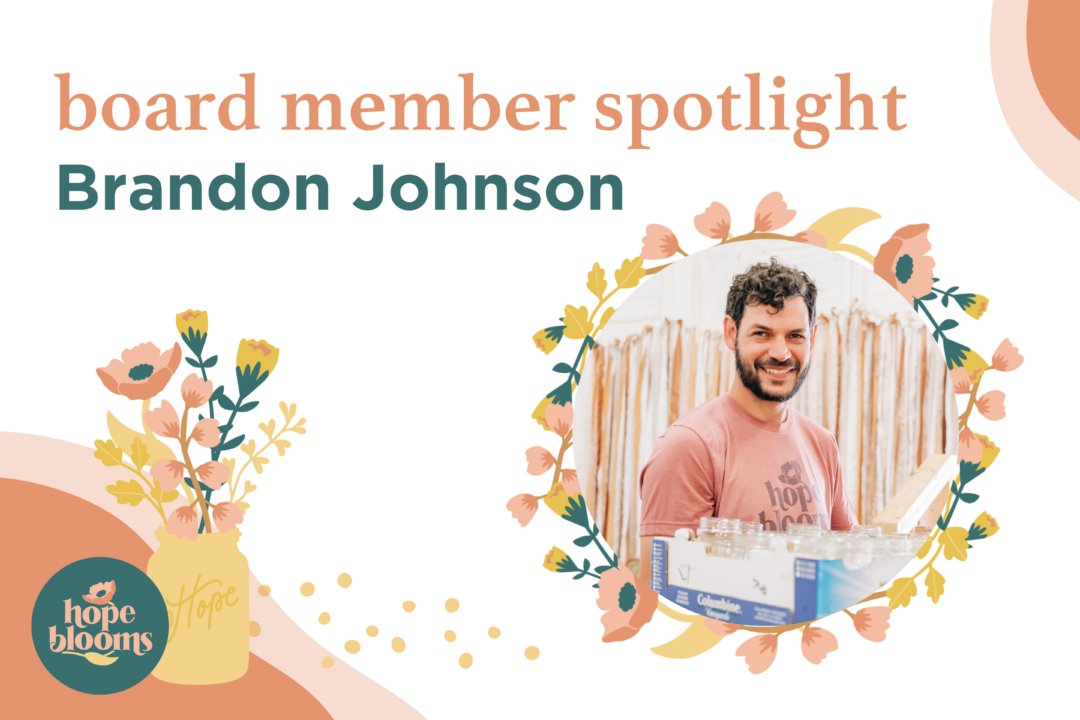 Board Member Spotlight: Brandon Johnson
February 25, 2023 | Written by
Meet Brandon Johnson, Hope Blooms board member. Brandon currently serves as the board secretary and is one of our regular delivery drivers.
Learn more about Brandon and why she's passionate about the mission of Hope Blooms.
How did you first hear about Hope Blooms?
The first time I heard about Hope Blooms was when Kelly presented it on stage at TEDx Fargo. I was sitting in the room and didn't know what Hope Blooms even was- and I'm friends with her personally- so I was like, "what is Kelly doing on stage?" and then I heard the story of how Hope Blooms came to be and I knew that it would become a part of my life.
Why do you choose to volunteer with Hope Blooms?
Passion- I can feel the passion through Kelly and in what she's doing. The origin of how Kelly started Hope Blooms in the memory of her grandma really pulls at my hearts strings. Their relationship is so important to Kelly and her grandma Freda was such a cultivator of gardens and floral so Hope Blooms is a perfect way to share some of their joy. The mission is unique and simple- it's not out there in a lot of other places. 
Why is giving back in your community important to you?
I think we all have been in, or are bound to be, in a position where we need help from the people around us. There needs to be a foundation of support in the community and it takes organizations like this to lay it and be able to give back to those needing extra support. 
In what ways do you see Hope Blooms bringing value to our community?
 Oh, it's day to day simple joys. That's what I love about it- not every act of kindness needs to be a big, extravagant act- a lot of joy comes from the little surprises. The value of Hope Blooms comes in the moments when people are not asking or expecting it- it can be on like a random Tuesday afternoon. When you receive joy in this way it hits a lot differently. It feels like it's serving a layer of our life experience that doesn't get served with other ways of nonprofit giving.
What's your favorite way to spread joy and kindness?
I think it's just sitting down with people and having ad hoc conversations outside of planned meetings, job conversations, and controlled discussions. It's the breaths in between all of that where you connect with people. That's the stuff that feels real and joyful to me. 
Name one of the most joyful moments in your life.
I have three kids with an amazing lady, Shari, but those are easy moments of joy to describe and I feel like it's a layup. After the wonderful additions of my kids and the joy in meeting Shari, I think of a memory from about 10 years ago. I started traveling internationally and went to a couple small remote islands with not much infrastructure or plumbing in Thailand. Just to walk into an environment like that and experience that type of living makes you appreciate the world we get to live on and feel so fortunate to visit for pleasure and return home. I haven't been there in years but that moment of gratitude really sticks with me. Standing on top of a mountain is also high on the list of joyful moments!
What's your favorite flower and why?
I'm not a flower aficionado and I don't have a true appreciation for the specifics of flowers so I'll have to go with what's meaningful to me. My mother's favorite flower is a yellow rose because my dad brought her yellow roses each time she had my brother and me in the hospital. 
When you're not spreading joy with Hope Blooms, how do you spend your time?
With small children right now, we're still in the learning how to parent and juggle full time jobs phase, trying to figure out how to exist and find and create joy with other humans that we're responsible for! I also enjoy dabbling in music- playing a bit but also discovering and listening with Shari and kids at home. My music taste is all over but has roots somewhere between rock and folk.
Share a little about yourself/your family.
I was born and raised in West Fargo, went to school at NDSU and the longer I live in this area the more I love it, but the element of getting away, traveling afar and coming back is a big part of that equation. I met Shari, my fiancee, through my sister-in-law and her friend in 2012 in quick passing and she was living and working overseas in Wales. We stayed in touch long-distance playing Words with Friends online. We finally met in-person over lunch in Fargo when she visited for her sister's graduation from nursing school and that lead to a spontaneous trip to Wales to visit her to see if we had something and that was the start to our story together. Ten years later, we've got three kids- a 7y/o daughter and twin 4y/o boys, a couple pets, we foster dogs, and are fortunate to have extended families that we're very close with.
What do we absolutely need to know about you?
That I am a deep lover of chocolate snacks so if you ever want to give me a gift… chocolate.
Stay up to date on our big annoucements, volunteer opportunities, future impact stories and so much more!