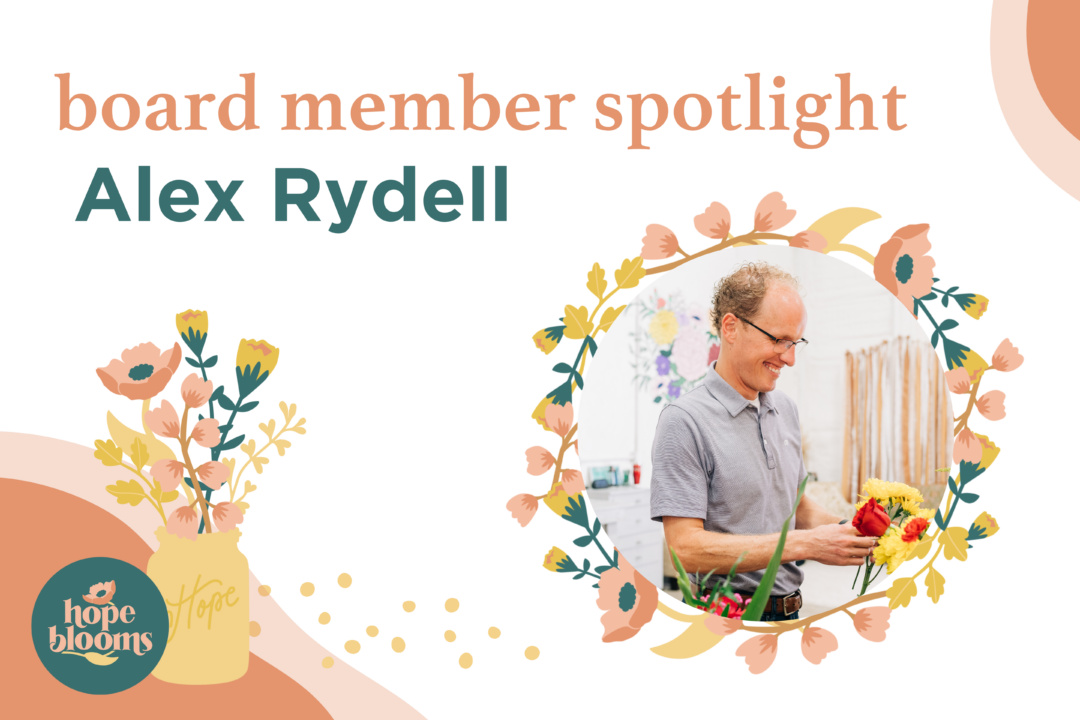 Board Member Spotlight: Alex Rydell
December 31, 2022 | Written by
Meet Alex Rydell, Hope Blooms board member. He's served on the board for three years, including one year as board secretary. In his career as a funeral director, Alex works with many families who wish to honor their loved one through donating the flowers from their loved one's service to Hope Blooms. Alex brings compassion, kindness and warmth to the board while also offering a unique perspective of the families we serve through accepting floral donations.
Learn more about Alex and why he's passionate about the mission of Hope Blooms.
How did you first hear about Hope Blooms?
I first heard about Hope Blooms on social media, and I was so impressed with the concept of repurposing floral arrangements and helping people to know they matter. I remember how quickly I started hearing people talking about it around town soon after I had found out about it. 
Why do you choose to volunteer with Hope Blooms?
There are so many people in our community who are in need of connection and knowing they matter. The more I learned about Hope Blooms, I realized it filled those voids so well and there was no question for me that I needed to give of myself to help further the mission.
Why is giving back in your community important to you?
We have a really special community here in the Fargo-Moorhead area, and I get to see on a regular basis how its members support and lift one another up during difficult times. I have also learned throughout my life that the times when I have the greatest contentment are the times when I am giving the most.
In what ways do you see Hope Blooms bringing value to our community?
Hope Blooms lifts others up and helps people know and feel that they matter in a deep and meaningful way. Spreading joy to those in our community who are especially in need of it is so valuable, as I think that joy ends up being multiplied and spread further from the hearts it is given to. 
What's your favorite way to spread joy?
One of my favorite simple ways of spreading joy is by learning people's names and being able to give a personal greeting with a smile when I see them. I also would be remiss if I didn't mention playing violin, as it has allowed me so many opportunities to spread joy over the last 33 years.
How does the mission of Hope Blooms align with your own personal values?
I have always felt a deep sense of belonging in the Fargo-Moorhead area having grown up here. Being able to help others and bring a smile to someone who might be having a day where it's hard to find something to smile about is where I feel we need to be putting our efforts. I have always valued lifting others up when they're down and giving of the gifts I've been blessed with, and Hope Blooms is the right place for me to be able to do that.
Name one of the most joyful moments in your life.
The most joyful moment in my life was without a doubt when my son, Brady, was born. I had no idea that I had so much love in my heart to give until he was born. The joy of bringing a life into this world and to have the opportunity to teach them all there is to know about life is the best thing I've ever experienced. And it keeps getting better! 
What's a hidden talent or something no one would ever guess about you?
When I was a kid I taught myself how to walk on my hands when I was bored, and I'm still able to do it pretty well!
What's your favorite flower and why?
One of the main flowers we had at our wedding was Anemones. Very classy black and white flower that looked fantastic.
When you're not spreading joy with Hope Blooms, how do you spend your time?
My wife Rebecca and I have three kids between the two of us, so I love spending time with all of them. All three kids are very active and keep us busy and content. I've been a funeral director at Hanson-Runsvold Funeral Home for 15 years now, and I have played fiddle in the band, Poitin, for 15 years as well. Aside from all of that, I do like to get some golf in when there is time leftover! 
Share a little about your family.
My wife Rebecca and I were recently married and joined forces to make an incredible family of 5. Brady is a great athlete and general sports kid through and through but is getting into music as well. Ruby is an incredible artist who continues to amaze me with the art she creates. Henley is one of the most active little boys I've ever known who loves to have fun and play sports.
I was raised in a wonderful home by a loving mother and father who are two of the best nurses around. My mom has been a nurse at Sanford for more than 40 years, and my dad teaches nursing at Concordia while also practicing nursing in several areas at Sanford as well. My sister Haley is a successful musician in Minneapolis and travels the country playing her own music and also with her band, Buffalo Gospel. My brother, Sam, is operations manager at Window World here in Fargo and is a great friend and golf partner to me.
Stay up to date on our big annoucements, volunteer opportunities, future impact stories and so much more!