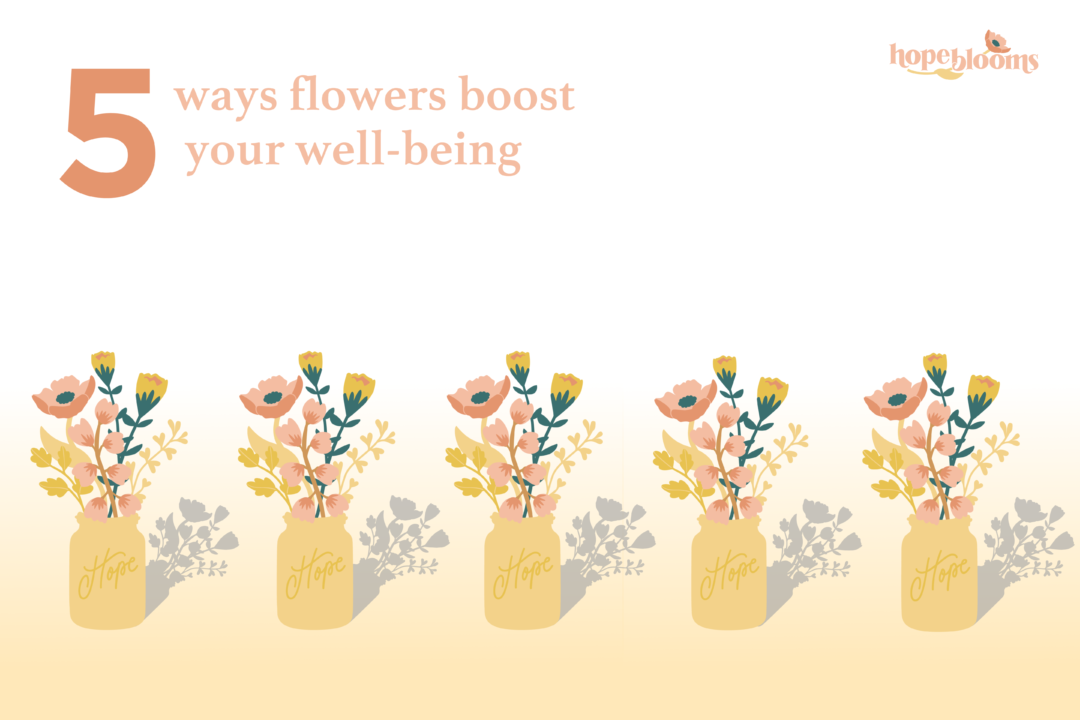 5 Ways Flowers Boost your Well-being
August 3, 2022 | Written by
What does being around flowers really do for you? To cut to the chase, a lot! But before we dive into it, learn more about what we do and why we are so passionate about it. 
Hope Blooms repurposes donated flowers by rearranging them into beautiful bedside bouquets with the help of many amazing volunteers. The bedside bouquets are delivered to individuals who need them most, such as those living at nursing homes, long-term care facilities, shelters and more. We do all of this with a mission to inspire hope, happiness and emotional healing. 
 Recipients of our bouquets feel joy when they receive them, but are there actual scientific benefits of being around flowers? Yes!
A bouquet of flowers does much more than look pretty. Studies have proven that being around flowers can have various positive effects and add to a person's overall well-being. Here are five facts about flowers you might not know:
Flowers lower levels of stress and anxiety.
Flowers can significantly improve an individual's overall mental health. Studies show having flowers in your home or work spaces make you happy, calmer and more relaxed. Through their visual beauty and wonderful floral fragrance, their presence alone boosts your mood and well-being.
Flowers can relieve depression.
If you've gone into a room with a noticeable bouquet of flowers, you may already know how much positive and calm energy flowers can bring into a space. Their brilliant colors can spark a variety of positive emotions. It's no wonder why flowers have been proven to increase one's overall satisfaction with life. 
Being around flowers right away in the morning can improve your mood for the day.
For those of you who are not morning people, having fresh flowers in your bedroom or kitchen may be a game-changer. Waking up to flowers can help you start your day off on the right foot by increasing your happiness and energy levels. Incorporating flowers throughout the rest of your day can also help create calmness and relaxation!
Flowers can boost creative thinking and productivity.
Stuck at a creative roadblock or feeling of being unproductive? Natural flowers in your workplace or home may help remove that barrier! By enhancing your environment with flowers, you can improve your performance, focus and efficiency. They also   spark creativity through colorful inspiration.
Flowers can accelerate the healing process.
Did you know flowers give off a soothing effect? In fact, seeing flowers daily can significantly reduce recovery time. You can also reduce the healing process by working directly with flowers.
Flowers are one of the best ways to improve relationships and our compassion and empathy towards one another. 
Recipients of our bouquets gain the many benefits of being around flowers. Our amazing volunteers who help process, produce and deliver them achieve the same benefits, too! 
Joy can be spread in many ways, but in our opinion, doing so with flowers might just be one of the best!  
Looking to improve others' well-being while improving yours, as well? Get involved at Hope Blooms through volunteering. Learn more at https://hopeblooms.org/volunteer/. 
Resources: 
https://thriveglobal.com/stories/the-positive-effects-of-flowers-on-your-wellbeing/
https://anthuriuminfo.com/en/positive-effects-of-flowers/
https://ellisonchair.tamu.edu/health-and-well-being-benefits-of-plants/
https://safnow.org/aboutflowers/
Stay up to date on our big annoucements, volunteer opportunities, future impact stories and so much more!