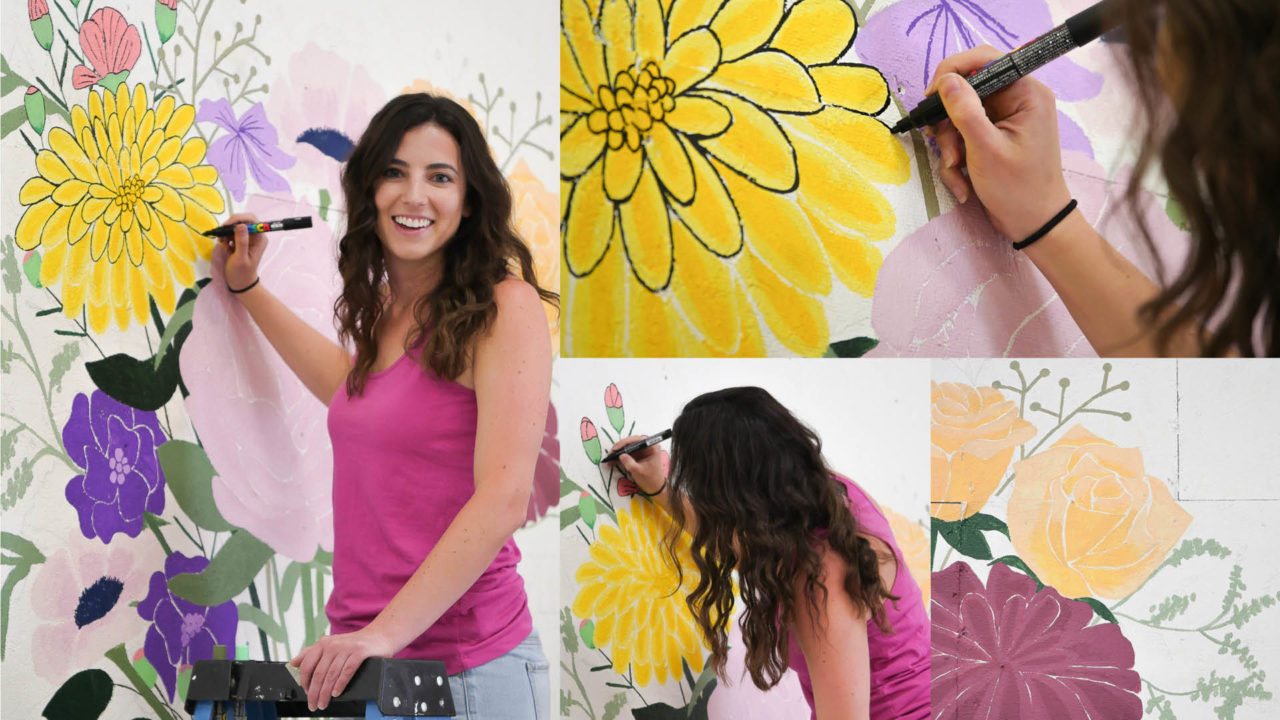 Volunteer Joy Maker: Shelby Zach
October 6, 2019 | Written by
We are so grateful to have a wonderful group of volunteers to help us tend to our community, and we're happy to introduce you to: Shelby Zach
Volunteering with Hope Blooms since: 2019
Why do you choose to volunteer with Hope Blooms?
Since first hearing about Hope Blooms, I was immediately drawn to the simple mission of the non-profit – to spread joy! I think flowers just have a special way of making people happy, so I loved the concept of repurposing event flowers and making more people happy.
With my design background, I have always said that I enjoy making pretty things. This has been a fun extension of that for me!
What's your favorite flower and why?
I kind of love everything! There will always be a special place in my heart for wildflowers, though, since they remind me of hikes, mountains and my childhood in Montana. When I see something non-traditional or a little wild in a bouquet, I'm instantly more drawn to that! My wedding flowers even had artichokes in them!
Why is giving back in your community important to you?
I enjoy any opportunity to support others, and I personally have fun doing it. I think offering a little kindness goes a long way and helps you get out of your own head. Plus, helping others is a great way to get creative!
What's your favorite way to spread joy?
Thus far, my favorite way has been painting the mural in Hope Blooms! It was such a fun experience to get me away from my computer and using my hands to create. I also really love paying it forward in the line at Starbucks. It's such a simple day-maker!
Name one of the most joyful moments in your life.
This is such a typical mom response, but when my son was born I was just bursting with joy meeting him. My whole world shifted when I met him and he has just brought so much joy and meaning to our lives!
What's a hidden talent or something no one would ever guess about you?
I really enjoy event planning and have been told a number of times that I'm good at it. Whether it's a birthday party, a picnic, or a wedding, I love organizing events! There's just something special about having a set goal and working toward it. Then, day of, it's so rewarding getting to see all the hard work fall into place!
What's your favorite quote?
I'm more drawn to pictures than words. My favorite artist right now is Ashley Mary, who does colorful abstract collages.
When you're not spreading joy with Hope Blooms, how do you spend your time?
Usually you can find me just hanging out with my son, husband and our dog. We like to have friends over for dinner or entertain family when they are in town. In the summer, we spend a lot of time at lakes and we love to travel to Montana to see my family or to Green Bay for Packers games!
Traveling for concerts is also one of my favorites, especially if it's One Direction! (Please get the band back together!) I'm also a really big fan of reality tv so I make sure to reserve plenty of time for The Bachelor and Bravo.
How did you get into your art? What is your favorite form of artistic expression? 
My mom always says that she was informed, when I was little, that I was really good at coloring. So I think the interest has maybe always been there? In high school, I loved making signs for homecoming and was a state officer for BPA, where one of my duties was to make newsletters. This led me to want to pursue a degree in graphic design.
Studying at Concordia, I got to practice a lot of different mediums and try my hand at painting, watercolor, ceramics, mixed media, etc. While I love to design on the computer, there's something about working with my hands and just getting crafty or building something that is soothing for me.
Share a little about your family. 
I have a 2-year-old-son, Rhett, who is just a ball of fun. He's talking so much and amazes me at how smart he is! My husband, Adam, and I met while working in the mall during college. He's super handy and is really good at house projects. So I come up with all sorts of crazy ideas with difficult angles for him to maneuver and he usually does a great job of figuring it out. We also have a dog, Driver, who is 6 and still wants to play fetch like a puppy!
My parents live on a ranch in my hometown in Montana, and my brother lives in the nearest town. My sister lives on the eastern side of Montana and is about halfway between here and home. We make a lot of stops at her house to break up the trip.
Stay up to date on our big annoucements, volunteer opportunities, future impact stories and so much more!