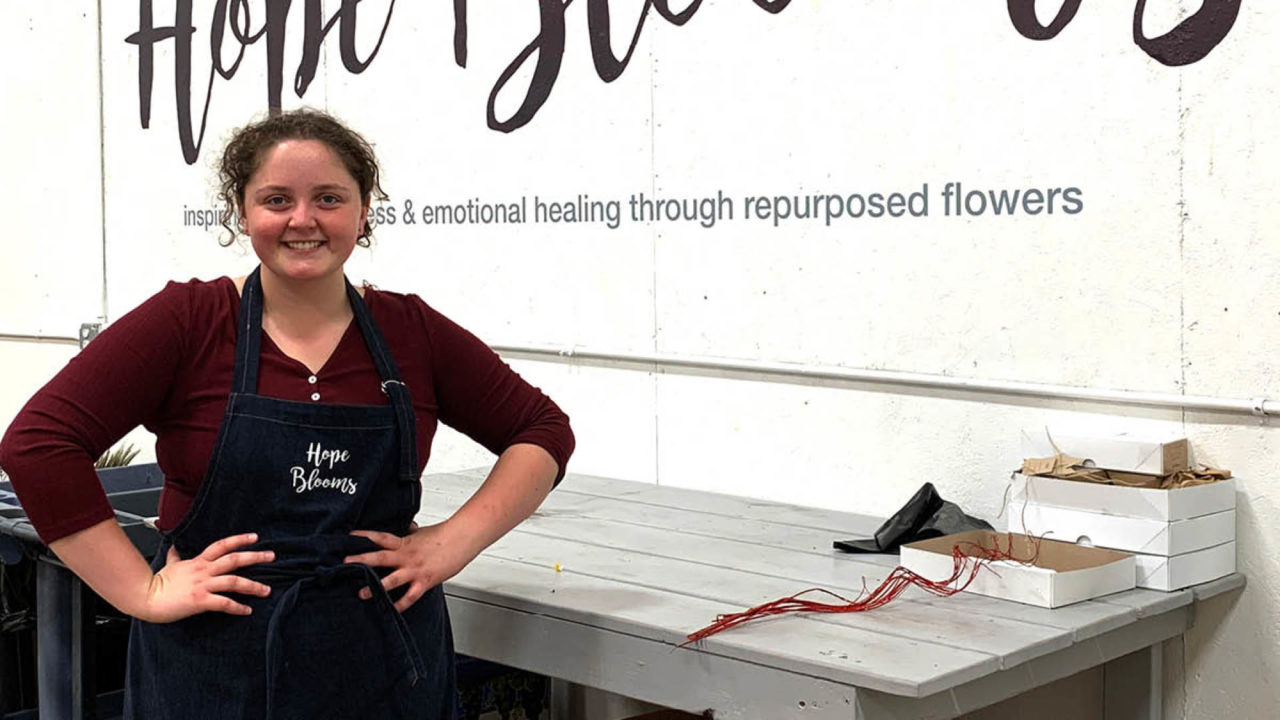 Intern Joy Maker: Mary Noah
July 13, 2020 | Written by
We're so happy to introduce you to our summer intern: Mary Noah
Interning with Hope Blooms since: May 2020
How did you first hear about Hope Blooms?
I was working at Caribou and we had a bouquet dropped off on our counter and it made every single person's day who saw it. I was in love with the idea that one little bouquet could bring about so much joy. The twine-tied vase with the Hope Blooms information was my first contact point with the nonprofit. I originally started working with Hope Blooms because the Concordia business office thought this might be an internship right up my alley and sent me an email with the application information.
Why do you choose to volunteer with Hope Blooms?
I chose to work with Hope Blooms because they have a mission that I can stand behind and get excited to share with other people. Not only is the work rewarding as you pass out bouquets, but arranging is a fun outlet to give new purpose to the flowers. Hope Blooms is driven by passionate leaders who I know I can learn a ton from and I've already had so much fun meeting the amazing volunteers who donate their time to support the Hope Blooms mission.
Why is giving back in your community important to you?
I have been fortunate enough to grow up volunteering and service is one thing that really fills my cup now. Being able to give back to the community that I live in is so important to me because I am able to participate in and foster the environment of giving that was given to me. I want to give joy back.
In what ways do you see Hope Blooms bringing value to our community?
All of the volunteers that come through Hope Blooms are people that truly care about those around them. Donating flowers to community members in need benefits people on both sides of the donation- our volunteers and those on the receiving end. That is how Hope Bloom adds value to the community- we bloom joy from within and spread what we have with others.
What's your favorite way to spread joy?
Aside from volunteering, one of the ways that I like to spread joy is on stage. I love being in productions with local theater companies and through school- I will be a sophomore this upcoming year at Concordia College in Moorhead. I think it's extremely rewarding to be able to share art with the community by singing and dancing around.
How does the mission of Hope Blooms align with your own personal values?
I have always believed in the value and dignity of each and every person. Hope Blooms puts into action that ideal. "You matter" are the governing words that guide the work that we do in the shop and they pack quite a punch. Joy is a gift that every single person is entitled to and I am able to bring it to people through repurposed flowers.
Name one of the most joyful moments in your life.
I think the most joyful moments from my life have happened in the little moments. Stargazing at the lake, playing pick up hockey with the neighbor kids, eating lunch with friends while laughing so hard that macaroni shot out of my nose, wiping sticky smores hands on my pants at a bonfire- these are all the little moments that make my life joyful.
What's a hidden talent or something no one would ever guess about you?
I grew up in a huge hockey family and played for about 11 years. I had pet pufferfish. I once got a free year supply of Arby's. I went to the Swedish Concordia Language Village for 7 summers. I know all of the words to "I Will Survive" by Gloria Gaynor.
What's your favorite flower and why?
I love love love orchids. I never get bored of looking at all of the different sizes, shapes, and colors that orchids come in.
When you're not spreading joy with Hope Blooms, how do you spend your time?
I'm a full time student at Concordia College in Moorhead, MN. I'm currently double majoring in business management and communications. Though school keeps me busy enough as is, I also am the Service Commissioner at Concordia and I am highly involved in theater on campus- plays and musicals. On top of that I work part time at Caribou Coffee. When I do get a minute in between to breathe I love outdoor ice skating, hanging at the lakes, and being around friends.
Share a little about your family.
I have lived in Fargo, ND, my whole life and have 4 siblings- I fall in line as the middle child. My lovely parents are Mark and Gretchen Noah. I went to Nativity Elementary, Sullivan Middle School, and Shanley High School. Now I am at Concordia College and I love it.
Stay up to date on our big annoucements, volunteer opportunities, future impact stories and so much more!