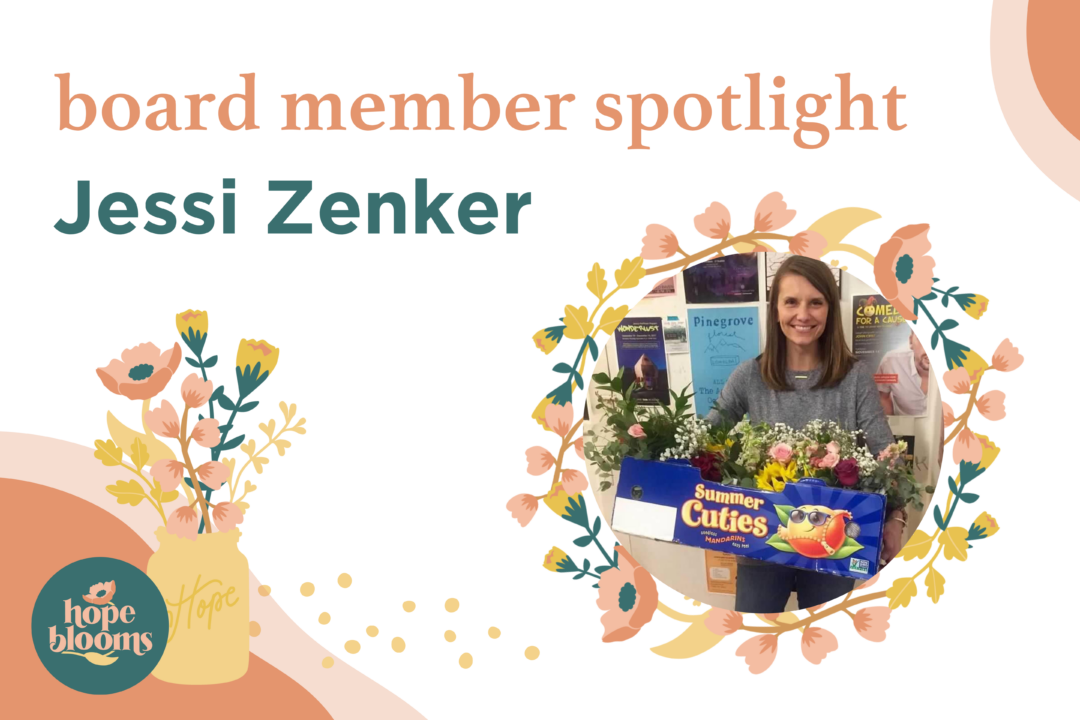 Board Member Spotlight: Jessi Zenker
November 19, 2022 | Written by
Jessi Zenker has served on the Hope Blooms board of directors for nearly four years. Her leadership and involvement has been instrumental to the growth of Hope Blooms in the formative years of our start-up nonprofit. She's a charity champion whose kindness is only eclipsed by her generosity. She brings a wealth of knowledge and strategy to the board of directors as well as a critical funder perspective through her full-time work.
Jessi's many contributions to our mission have helped Hope Blooms blossom into a multifaceted organization serving thousands of people in need per year.
Learn more about Jessi and why she's passionate about our work.
How did you first hear about Hope Blooms?
My connection to Hope Blooms began with meeting founder Kelly Krenzel years and years ago. We stayed in touch ,and when she launched Hope Blooms, I was inspired to get involved!
Why do you choose to volunteer with Hope Blooms?

Initially, I became involved with Hope Blooms because I loved the concept and act of repurposing floral to those who needed a beautiful reminder that they matter.
I've stayed involved for so many years because of the people who serve this mission (fellow board members, Hope Blooms staff, amazing volunteers) and the opportunity to help Hope Blooms continues to grow and evolve and impact our community in bigger ways.
Why is giving back in your community important to you?
I love Fargo! It's where my children were born and where we have planted our roots. I want my kids to look around and know that they grew up in a place where people help one another and care for each other. I can't expect that outcome if I'm not willing to contribute.

Being involved in my community has helped me grow and become a more understanding and empathetic individual. It's helped me meet new people and build and strengthen relationships. No one can deny that it simply feels good to give back!
In what ways do you see Hope Blooms bringing value to our community?
Hope Blooms is selflessness in motion! 
Several people are connected and impacted with one single bouquet:
There's the individual who donated the floral, likely experiencing a significant life milestone.

There's the volunteer, who created a bouquet for someone who they may never meet.

There's the recipient, receiving this beautiful gift.
These selfless acts of donating resources and time come together to remind someone – likely a person in need – that they're important, and that our community cares.
What's your favorite way to spread joy and kindness?
I love to spread joy and kindness by celebrating and recognizing others! This might look like a coffee delivery to say thank you, a good-luck text before a friend's job interview, or an obnoxious amount of gold party decor for my son's recent "golden birthday!"
Name one of the most joyful moments in your life.
Of course, those big moments like my wedding day and when my children were born, but I'm also going to include each day my nieces and nephews were born! I am SUCH a proud auntie to my 5 nephews and 5 nieces.
What's your favorite flower and why?
I had hydrangeas at my wedding more than 17 years ago, so I'll go with those! 
Share a little about yourself/your family.
My husband and I have three awesome kids: my oldest is a freshman at the U of M (Twin Cities); my middle is in 8th grade; and my youngest is in 3rd. They are very active in multiple sports that keep us on the go! When we're not heading somewhere for a game or tournament, we love traveling to new places (now that our kids are older, skiing and hiking National Parks top our list), playing any sort of card or board game (really just any type of competition), and spending time with our extended family.
What do we absolutely need to know about you?
What's the opposite of a green thumb? A black thumb!? That's what I have. 🙂 And yet, I've supported and served an organization founded on the practice of repurposing flowers for many years. So don't be afraid to get involved with causes that may not seem to fit your specific "specialities." Our talents and time can be put to use in so many other ways!
Stay up to date on our big annoucements, volunteer opportunities, future impact stories and so much more!