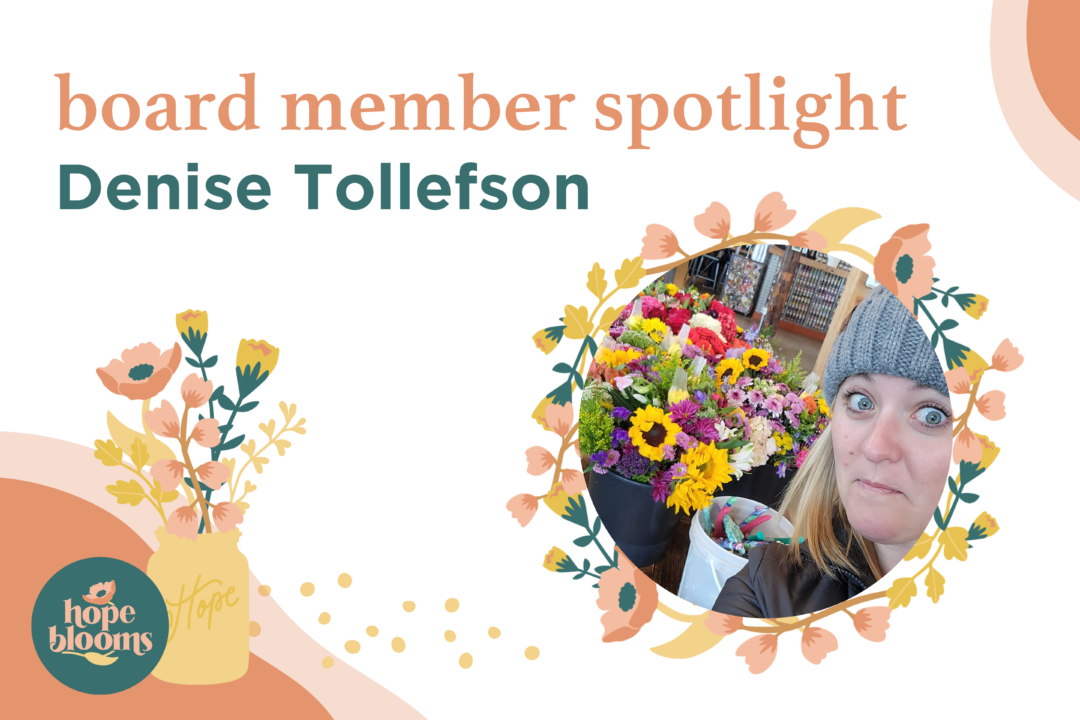 Board Member Spotlight: Denise Tollefson
December 3, 2022 | Written by
Denise Tollefson has served on the Hope Blooms board for three years, including one year as president of the board. She brings a meaningful perspective of someone who works closely with the elderly population, which are at the heart of the Hope Blooms mission. Denise is full of joy and kindness and leads with a servant heart — all of which make her the perfect  fit for our board.
Learn more about Denise and why she's passionate about Hope Blooms.
How did you first hear about Hope Blooms?
Dozens and dozens of bouquets got delivered to the assisted living facility I manage. This is not necessarily unusual as often times funeral arrangements get delivered to our facility. This time, however, was different. The flowers were in small, bedside mason jars and tagged, "You Matter." The instructions were to deliver them to our residents' own apartments. Surprised by the delivery, some of my team got a cart and we started delivering them to our ladies and gentlemen. "Oh, how beautiful!"…. and "For me, really?!" were the responses we kept getting. It was such an accidentally, surprising afternoon and a lovely first memory.
Why do you choose to volunteer with Hope Blooms?
I tell everyone that Hope Blooms is just plain the happiest organization I have ever worked or been a part of. Its literal goal is to spread joy.
Why is giving back in your community important to you?
I believe that self and community are symbiotic. You can't expect a community to give back to you if you don't fuel it either. And, the ultimate way to foster good community is to fill it with amazing human beings. 
In what ways do you see Hope Blooms bringing value to our community?
The range of Hope Blooms is extraordinary! I work every day with the elderly, and floral bouquets are an instant boost for loneliness. It doesn't stop there; cancer treatment centers, families who foster children, palliative care units, women's shelters and more. It's so comprehensive and the opportunities to touch the lives of so many in need of kindness are limitless!
What's your favorite way to spread joy?
Mailing cards (just because) to my grandparents in their 90s.
How does the mission of Hope Blooms align with your own personal values?
My love language is definitely acts of service. Jesus showed this by washing the feet of his disciples. Since people might think I'm weird if I ask to wash their feet, I think making and delivering bouquets is a pretty decent compromise.
Name one of the most joyful moments in your life.
The births of my two children.
What's a hidden talent or something no one would ever guess about you?
I can lick my elbow!
What's your favorite flower and why?
White hydrangea! A single bloom makes a statement all by itself! 
When you're not spreading joy with Hope Blooms, how do you spend your time?
Family time fills my cup! Crossing off things with my family on our bucket list makes me the absolute happiest.
Share a little about your family.
I have been married to Brent for more than 12 years! We live in West Fargo and have Crosby (9) and Lucy (7).
Is there anything you would like to add?
If you take the opportunity to volunteer with Hope Blooms, don't stop at just the flower arranging. Allow yourself enough time to actually deliver the bouquets. That, my friend, is where the magic is. Just try watching someone's face light up when you show them you care and not become addicted.
Stay up to date on our big annoucements, volunteer opportunities, future impact stories and so much more!